HDP MP Başaran: Rape is a method of warfare
HDP MP Ayşe Acar Başaran describes the most recent rape cases by Turkish military personnel as a method of special warfare, and the debate on withdrawal from the Istanbul Convention as unacceptable.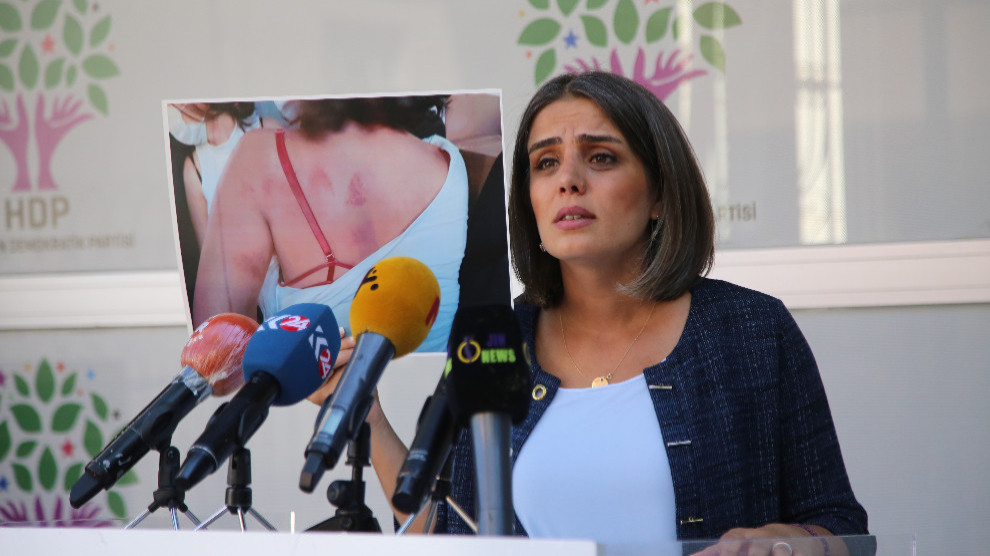 Ayşe Acar Başaran, spokeswoman of the Women's Council of the Peoples' Democratic Party (HDP), commented on the increase of sexual harassment and rape cases in Northern Kurdistan at a press conference in Ankara. Specifically, she named the attempted rape of a thirteen-year-old girl in Şırnak and the rape of a seventeen-year-old girl in Batman. In both cases the perpetrators were non-commissioned officers of the Turkish army. "It is becoming apparent almost every day that this is a method of special warfare of the governing coalition of AKP and MHP," said the MP.
This also includes repression against politically active women, said Ayşe Acar Başaran and added: "We know what is meant by using dogs in the torture of Rojbin Çetin, arresting seventy-year-old women and criminalising Rosa women's association. This is to signal to us that we are confronted with all instruments of violence when we defend ourselves against attacks on women."
Regarding the recent murders of women in Turkey, Başaran stated: "For each murder of a woman, we declare again that it is a result of the AKP policy. In June alone, 27 women were murdered, another 23 women died in suspicious ways. Since the AKP has come to power, over 3000 women have been murdered. This is a femicide."
The HDP politician also criticized the police violence during women's protests against patriarchal violence against women. She showed photos of activists from Muğla, who were mistreated by police during the protest against the murder of 27-year-old student Pinar Gültekin.
Ayşe Acar Başaran also addressed the debate on the withdrawal from the Council of Europe's Istanbul Convention on Violence against Women. The Council of Europe Convention on the Prevention and Combating of Violence against Women was adopted at a conference in Istanbul in 2011 and ratified by Turkey the same year. AKP politicians believe that it undermines traditional values. In early July, AKP deputy leader Numan Kurtulmuş said that signing the convention was wrong. He said the convention called traditional gender images into question, encouraged LGBT groups and endangered the family.
Başaran explained that this discussion is unacceptable when women are murdered and raped daily: "Every day there are TV debates on this topic, but women do not get a chance to speak. It is pretended that the Istanbul Convention is an act of mercy by the government. That is not true. The Istanbul Convention is the result of a struggle led by thousands of women. We will not allow this achievement to be taken away from us. We have no guarantee from the government, the police or the judiciary, which, with its policy of impunity, encourages violent men. Our guarantee is the rights we have fought for and will never give up."