HDP MP Sarısaç: We are the defenders of this honorable cause
"We salute this honorable resistance initiated by Ms. Leyla Güven. We will be the defenders of this resistance until the end. The demands of Leyla Güven and of our friends in prison are our demands."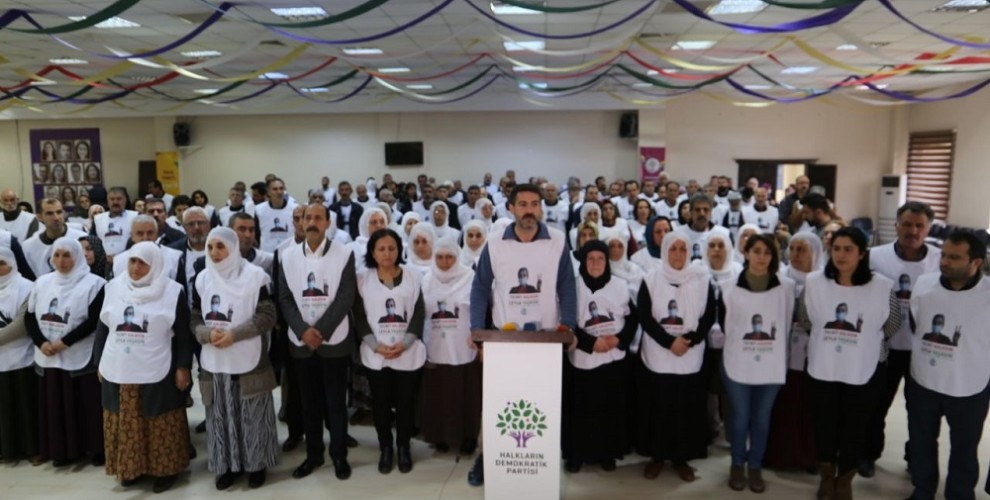 As DTK co-chair and HDP Hakkari MP Leyla Güven reached day 129 of her hunger strike, thousands have joined her in prisons, Hewlêr, Wales, Strasbourg, Toronto, Amed and many more cities.
HDP Amed MP Dersim Dağ and HDP executives Sevican Yaşar, Salih Cansever, İsmet Yıldız, Salih Tekin and Bilal Özgezer have gone on indefinite hunger strike on 3 March demanding the end of isolation and were attacked by police.
Likewise, Van deputies Tayip Temel and Murat Sarısaç and party members Abdulhalik Kurt and Yusuf Ates, were attacked by police during a press conference on 8 March.
As a result of the three police raids carried out at the HDP building since 3 March, seven party members have been detained. While four of them were imprisoned, three are still in custody.
The hunger strike carried out by the HDP deputies in the party's provincial building is supported by 150 people, including HDP, DBP and ESP executives, civil society organization representatives, members of the Peace Mothers' Assembly, the DBP co-mayors removed by the State and families of hunger strikers in prisons.
The 150 people filled the Vedat Aydın Conference Hall where the hunger strike is taking place and began a Vigil.
HDP deputies and hunger strikers Tayip Temel, Murat Sarısaç and Dersim Dağ held a press conference.
Commemoration of Halabja victims
HDP Van MP Murat Sarısaç said: "Today is the 31st anniversary of the Halabja Massacre. A history of massacre. A people searching for its rights has been hit by genocide policy for 100 years. It was massacred 31 years ago by a fascist Baathist regime while seeking for its rights. We pay respect to the 5,000 people and all the martyrs."
Fascist regimes end, not peoples
The aim of the Halabja Massacre was the same, said Sarısaç: "A fascist mentality, which thinks it could destroy a people with genocide and assimilation policies, carried out massacres of the Kurdish people. Thousands have paid the price, but 31 years on what we see is the end of fascist regimes, not the end of peoples. Today, we see what happened to those fascist regimes."
They want to complete the genocide
Today, said Sarısaç "5,000 of our comrades are on hunger strike. The isolation imposed on Mr. Abdullah Öcalan is an attempt to complete the genocide of the Kurdish people. But rest assure that this genocide initiative will be spoiled by people like it happened after Halabja, Sheikh Sait and Seyid Riza.
The number of our friends who are on hunger strike in prisons is now close to 5,000 and these 5,000 people are being ignored by the AKP-MHP fascist government.
We say that this genocide policy against the Kurds cannot be achieved in any way. We went on a hunger strike for this.
We, 10 people, started a hunger strike on 3 March, following Leyla Güven who is on the 129th day of fast.
The hunger strike, which is a totally constitutional right, is being tried to be suppressed [by the State] without even respecting its own law in an antidemocratic way. But this pressure is not accepted by our people, no matter how hard the government would try. This support is not due to the fact that people who are on hunger strike are members of parliament, it would be supported anyway.
The main reason for this hunger strike is that it is a struggle against those wanting to destroy the values ​​of a people, and we support this honorable struggle to the end."
Repression and detentions
Sarısaç added: "On 3 March we started a hunger strike with ten friends. Seven of our friends were detained by police who carried out a violent raid and were beaten up. They were held in custody for four days and given just water. The fact that they were released was an indication that our friends had not committed any constitutional crimes. A prosecutor releases one, and the day after our friends are detained again. In the most recent raid, they sneaked inside, waiting for the night in ambush."
These pressures, said Sarısaç, "are not humanitarian and are not legal. What they want today is the destruction of a people. This destruction attempt is also carried out against Mr Öcalan, who is denied any right. In other words, they are trying to infect the public opinion with the genocide virus."
We are the defenders of this honourable resistance
Sarısaç ended his remarks by saying: "Despite pressures and intimidation policies, we are defenders of this rightful and honorable cause. We won't let any of our friends in prison to be carried out in a bodybag. We will announce this to our people and to the world. That's why our people are here. We have been together for two days despite these attacks against the Kurdish people.
We salute this honorable resistance initiated by Ms. Leyla Güven. We will be the defenders of this resistance until the end. The demands of Leyla Güven and of our friends in prison are our demands."