HDP rallied in Batman: Together we will win!
With three days to go to the 24 June elections, the HDP continued its round the clock activities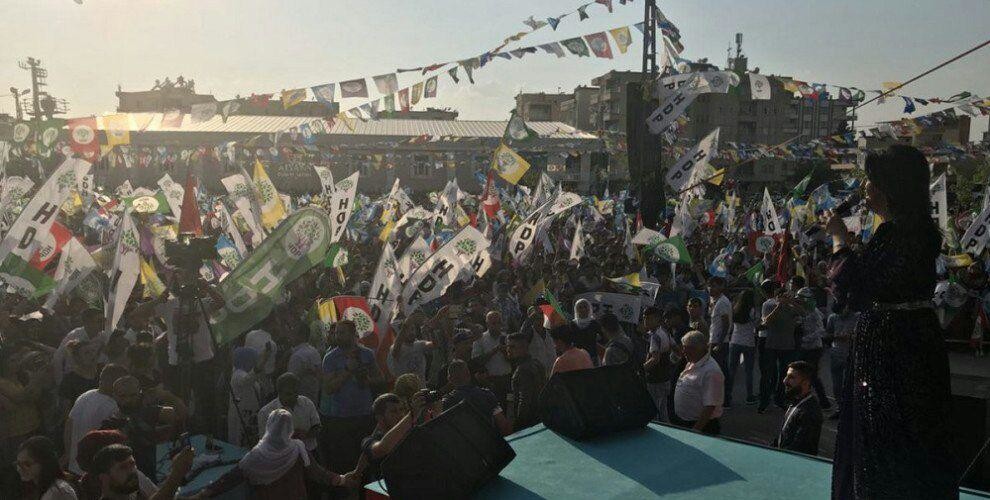 HDP Batman Province Organization organised the party's rally in Batman on Wednesday. 
With three days to go to the 24 June elections, the HDP is working 24/7 to reach all cities, towns and villages.
Tens of thousands of people attended the rally, along with HDP co-chair and candidate Pervin Buldan and the HDP Batman candidates and MPs. 
There was a heavy presence of police all around the area of the rally and people were subjected to heavy controls in order to enter the area. 
The stage was decorated with photos of HDP co-chairs, Pervin Buldan and Sezai Temelli, and with HDP flags. Photos of HDP presidential candidate Selahattin Demirta were also all over the area. 
Speaking at the rally, HDP Batman Provincial Chairman Nizamettin Toğuç called on people to be vigilant on Sunday 24 June, as all types of illegalities could be committed. 
HDP Batman candidate Necdet İpekyüz stated: "We will resist and we will win. We will send five deputies to parliament from Batman. We have resisted for 100 years, we will not bow now in front of those who want to destroy us."
HDP Batman candidate Şükrü Baytar said: "Kurds have seen war and blood, they want truth and they want peace". 
One vote for HDP, one vote for Demirtaş
Another HDP candidate,, Mehmet Rüştü Tiryaki, said: "We are ready to serve our people", while HDP Batman deputy Ayse Acar Başaran added: "We are proud of you, we are servants of the people. The people will take its own back on the AKP on 24 June": 
Batman candidate and Amed MP, Feleknas Uca, said: "We salute the freedom of the people.Our people have made the decision to get rid of the AKP after sixteen years of massacres, death, wars and poverty". 
Uca said she was sure the HDP will overcome the threshold. "They are saying they will let us under the 10%, we tell them Rojbas [good morning]. Our people have already made their mind up. Demirtas and the HDP are in their dreams. Together we will build a free society."