HDP submits motion for October 10 to become an official day of remembrance
The HDP wants October 10 to become an official day of remembrance and mourning in Turkey. A corresponding motion for a vote was introduced in parliament.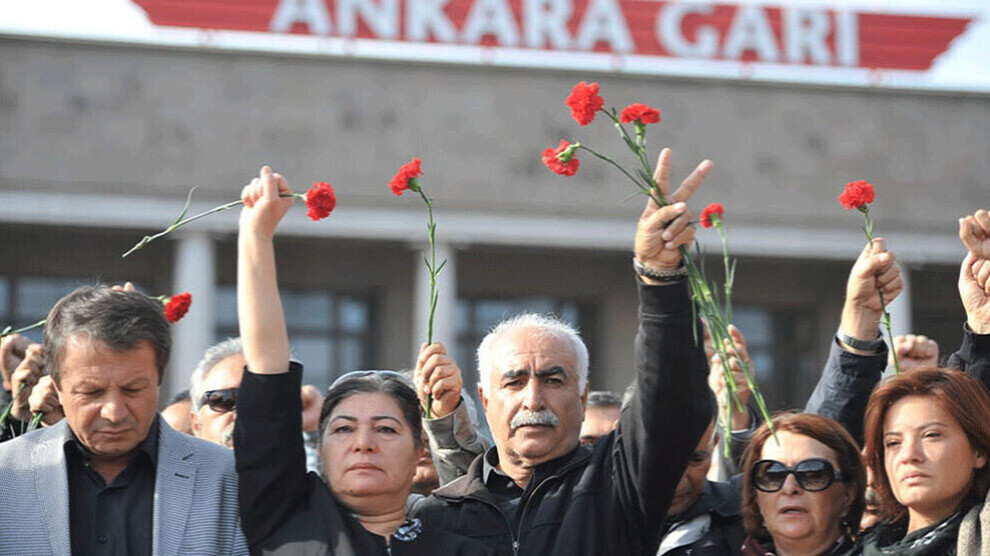 The Peoples' Democratic Party (HDP) wants October 10 to become an official day of commemoration in Turkey as a "day of remembrance and mourning." In a motion now submitted to the presidency of the Turkish parliament, the HDP parliamentary group calls for its draft law to be put to a vote to give October 10 the status of such a day of remembrance.
On that day in 2015, the most serious terrorist attack in Turkey's history occurred in Ankara. Two suicide bombers blew themselves up in the middle of a peace rally called for by the HDP together with the KESK trade union federation against the Turkish state's war against the Kurdish population. Over a hundred people died, and more than 500 others were injured, some seriously. To date, the attack has claimed the lives of 104 people involved in the peace initiative.
In the justification for the motion, HDP deputy Ömer Faruk Gergerlioğlu pointed out that even six years after the devastating "massacre" there is no justice for the victims. This is despite the fact that even inspectors from the Turkish Interior Ministry pointed out in their investigation report that the security authorities had known about the attack plans but failed to prevent it. "The fact that hardly any security forces were deployed at the rally site on the day of the attack, that traffic was not diverted for a gathering of this magnitude, that no searches of individuals were carried out are among the questions that have not been answered to date. Legal processes have also failed to make amends so far, as alleged people responsible or behind the scenes have either been released from prison or allowed to flee to Syria." Relatives criticize the government's unwillingness to clarify the exact circumstances of the attack.
However, Gergerlioğlu said that it was essential to convict the perpetrators in order for the victims and families to receive justice. A "bleeding wound" is the fact that the dead are still denied peace of mind, he said. Especially in light of the fact that commemorative events for the victims of this devastating attack are violently quashed by the police and it is "almost considered a crime to commemorate the dead," establishing a day of remembrance that inspires peace, work and democracy is of particular importance, he said. The rally of the HDP and the KESK was held under the motto "Peace, Labor and Democracy".