International Peace Delegation met Peace Mothers in Amed
Peace Mother Havva Taşkıran criticized the silence of the European countries on the Kurdish people and actions.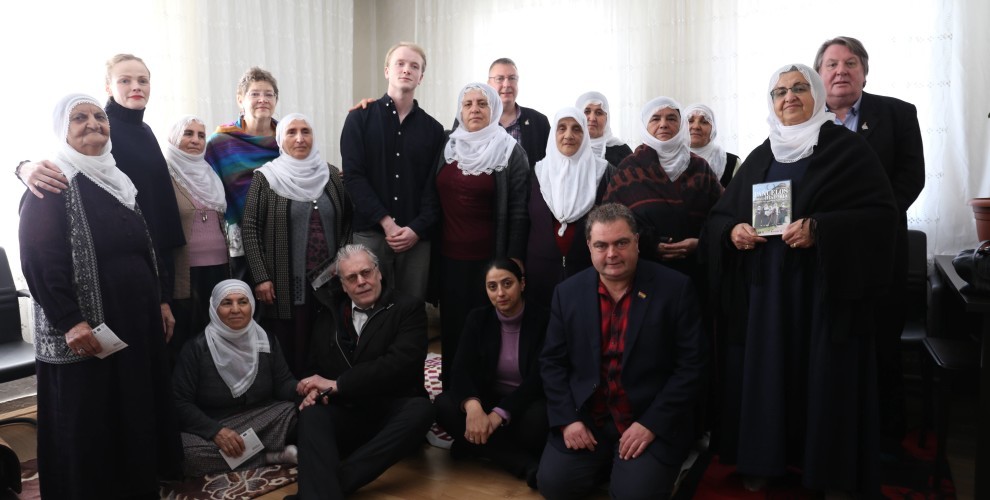 The International Peace Delegation arrived from Europe a couple of days ago.
After their meetings in Ankara, the delegation moved to Amed where they wanted to know first hand about DTK co-chair and HDP Hakkari MP Leyla Güven on hunger strike demanding the end of isolation against the Kurdish People's Leader Abdullah Öcalan.
The delegation visited the Peace Mothers Assembly.
Peace Mother Havva Taşkıran criticized the silence of the European countries on the Kurdish people and actions.
Taşkıran explained what the peace mothers experience in a country dominated by war. "What makes us be peace mothers is this common pain and struggle. Leyla put her body on the verge of death to fight isolation. More than 300 of our children are on hunger strike and are in critical condition. We don't expect anything from anyone. All we want is our voice to be heard and our demands to be met. We do not want to be carrying bodies out of prisons."
'Demands should be met'
Taşkıran said that the demands of the hunger strikers should be met and added: "Every mother you see here is now on trial, many of our cases are in the Supreme Court but we are still fighting for peace. We want to bring peace to this country. One of our mothers lost her seven children, but she still wants peace. Another mother has three children in jail but she still calls for peace. All we ask you is to listen to our demands. If you do not do anything today, tomorrow every place can become another Kobanê, another Afrin.
We do not want more life loss, we do not want other mothers cry. Those who isolate our leader today, those who have their hand in the conspiracy will have to respond to the public. "
'We will use our power'
The delegation listened to the stories of the Peace Mothers and issued a statement after the meeting.
Former Iceland Interior and Justice Minister Ogmundur Jonasson said: "Your resistance feels us with great admiration. I feel like I've come to a place of worship. I understand your anger towards the West and us. You have expectations and they are not met. We are a small element but we will use our existing power and we will do our best to make your voice heard."
Beverly Ann conveyed the message of Nora Irma Morales Cortiñas, co-founder of the Plaza de Mayo Mothers Initiative to the mothers and gave them presents. "I send them my love - said the message - and I know they will win. I am hopeful of the success of their struggle."
Ann added: "Last night I received the news of the killing of two of my friends and I'm terribly sorry. I deeply understand you and I know your feelings, but you will win. We will do everything to make your voice heard. We will read your messages and demands in parliaments. Our hearts and good wishes are with you."
Delegation could not meet Leyla Güven for health reasons
The delegation went to the hospital where Leyla Güven had been taken to visit her. However, Güven could not meet the delegation because of her health condition.
Writer Maxine Peak, who made a statement on behalf of the delegation after the visit, said: "Leyla and her friends only want the government to comply with the law. Please let Leyla and her friends live."