ISIS also claims responsibility for the attack in Iran
ISIS has claimed responsibility for the attack that targeted a military parade in Ahvaz city of Iran on Saturday.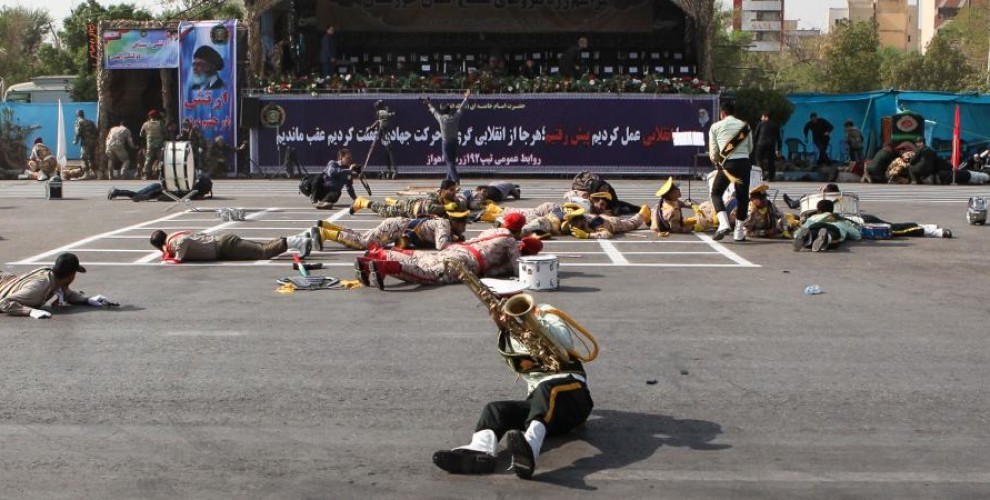 In a statement on their propaganda agency, ISIS has claimed responsibility for the attack that targeted a military parade in Ahvaz city of Iran earlier today, killing at least 24 people, 12 whom are revolutionary guards.
According to latest figures, as many as 60 people suffered injuries as a result of the attack.
Iranian Minister of Foreign Affairs, Javad Zarif held "Terrorists recruited, trained, armed and paid by a foreign regime" responsible for the attack.
Zarif wrote the following on Twitter: "Children and journos among casualties. Iran holds regional terror sponsors and their US masters accountable for such attacks. Iran will respond swiftly and decisively in defense of Iranian lives."
Not long before these statements, the Ahvaz Democratic People's claimed responsibility for the attack. The organization issued a short statement and said, "The revolutionary fighters of the Ahvaz Democratic People's Front have carried out a successful action against the invading Vilayat-e Faqih state this morning. The Revolutionary and belligerent Al Ahvaz Front fighters have carried out a great action against the Vilayat-e Faqih invaders this morning. Many invading Vilayat-e Faqih soldiers and officers died in the armed action carried out by our revolutionary militants."
Still, there are contradictory reports on the attack. According to Fars news agency, the attack was carried out by two persons, both of whom were reported "neutralized".
On the other hand, Khuzestan deputy governor Ali-Hossein Hosseinzadeh said: "There were four terrorists. Two of them were killed, the other two were captured."
According to AFP, Armed forces spokesman Brigadier General Abolfazl Shekarchi said that the dead included a young girl and a former serviceman in a wheelchair.
"Of the four terrorists, three were sent to hell at the scene, while the fourth who had been wounded and arrested went to hell moments ago due to his severe wounds," Shekarchi told state television.