Justice for Roboski demanded for the 83rd month
83 months after the Roboski massacre, the Human Rights Association (IHD) Istanbul Branch once again demanded justice.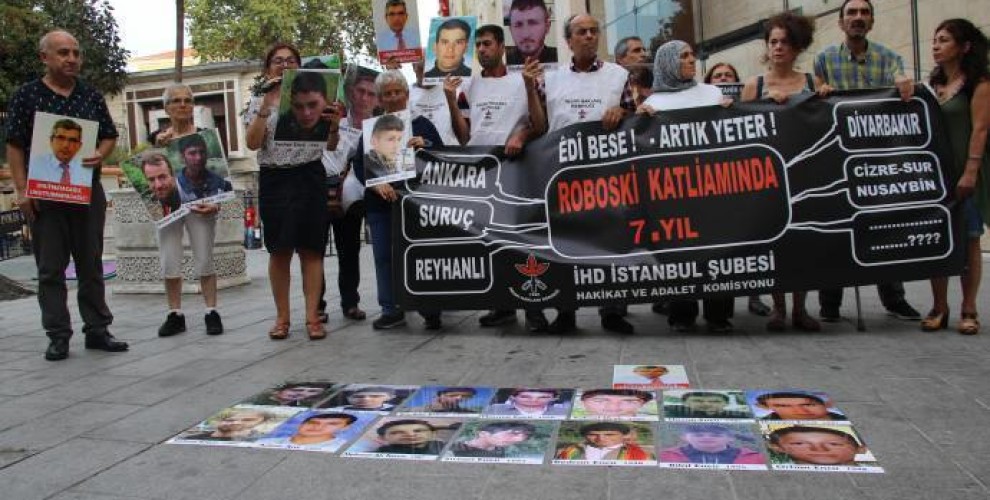 As every month for 83 months Istanbul Human Rights Association Branch organised an action demanding justice for Roboski victims and families. "We have been demanding justice for 7 consecutive years, 83 months" said IHD activists.
The Justice and Justice Commission of the IHD demanded justice in a written statement released to mark the 83rd month since the Roboski massacre.
Thirty-four civilians were murdered when Turkish war planes deliberately targeted a group of Roboski citizens who were getting on with cross-border trade as they had been doing for decades.
"The file sent to the Constitutional Court has been rejected on the grounds of missing documents, - said the statement - while the file sent to the European Court of Human Rights was rejected".
The IHD also commemorated "human rights activist and president of Diyarbakır Bar Association, Tahir Elçi, who tried to bring the killers to justice, and was murdered, on 28 November 2015".
Tahir Elçi devoted his life to preventing unsolved political killings, disappearances while in state forces custody, massacres and punishment, reminded the statement. "He sought justice - added the IDH statement - yet the investigation on his murder has been neither effective nor fast and to dat no perpetrators have been found and truth is far from being reached".
The IHD statement insisted: "As human rights defenders we won't allow these murders and massacres go unsolved. This month, as well as reclaiming justice and truth for Roboski as we have been doing every month for 83 months, we add yet another demand for justice. We demand justice for Tahir Elçi. Justice - said the statement - is the common denominator of equality, freedom and peace. Justice and equality can only be built on truth".