KCDK-E and TJK-E published details of marches against isolation
Actions and demos are to take place around the world on 13 and 14 October.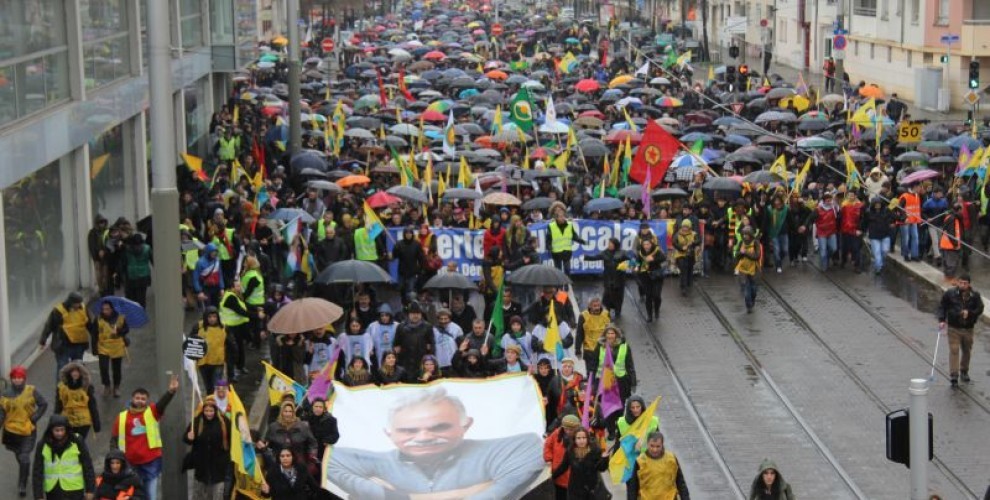 The KCDK-E Co-Presidency Council and the European Kurdish Women's Movement (TJK-E) released a written statement about the marches against the International Conspiracy that will take place in the coming days in several cities and countries around the world.
The statement recalled "that the 9 October Conspiracy targeted the Kurdistan Freedom Movement and freedom in the Middle East and aimed at liquidating the struggle for equality. The historical resistance of Kurdish People's Leader Abdullah Öcalan in Imrali and the resistance of the peoples of Kurdistan defeated the Conspiracy".
Stressing that the Öcalan's paradigm was a source of hope, despite the conspiracy and isolation, for the peoples of Kurdistan and the Middle East, the statement added: "The fact that this philosophy has been gaining ground has disturbed the fascist Turkish state. Which is why, a comprehensive attack and isolation is being carried out. This isolation though can be break by young people and women as well as all Kurdistan people through common struggle and resistance".
The statement pointed out that the silence of all international institutions, particularly the CPT, has favoured the AKP-MHP fascist power to deepen these policies.
KCDK-E and TJK-E called on "mass demonstration against the international conspiracy and the isolation imposed on Leader Apo on 13 October".
This is the calendar of events:
BELGIUM
Liege, Place Saint Slambert, 2 pm
***
FRANCE
Paris, Place République, 2 pm
Marsilya, Place Canabier, 2 pm
***
GERMANY
Düsseldorf, Düsseldorf HBF, 2 pm
Frankfurt, Alte Oper, 3 pm
Darmstadt, Luisen Platz, 2 pm
Hannover, Hauptbahnof, 2 pm
Stuttgart, Lautenschagerstr, 5 pm
Berlin, Alexanderplatz, 12 am
Hamburg, Hauptbahnof, 3 pm
Kiel, Hauptbahnof, 4 pm
***
AUSTRIA
Linz, Martin Luther Platz, 1 pm
Wien, Museumsquartier, 2 pm
Insburg, Annasäule, 5-7 pm
***
CANADA
Toronto, Yonge&Dundas (Dundas Square), 6 pm
***
AUSTRALIA
Melbourne, State Library, 2 pm
***
HOLLAND
Den Haag, Maliveld, 2.30 pm
***
SWEDEN
Stockholm, Norra Bantorget, 1 pm
***
FINLAND
Trafikkanten, 3 pm
***
14 OCTOBER
AUSTRALIA
Sydney, Circular Quay Train Station, 2 pm
***
20 OCTOBER
SWITZERLAND
Bern, Bundesplatz, 2 pm