Kurdish activists attacked by French police: We will resist!
Strong reaction to the police attack at Strasbourg demo for Öcalan.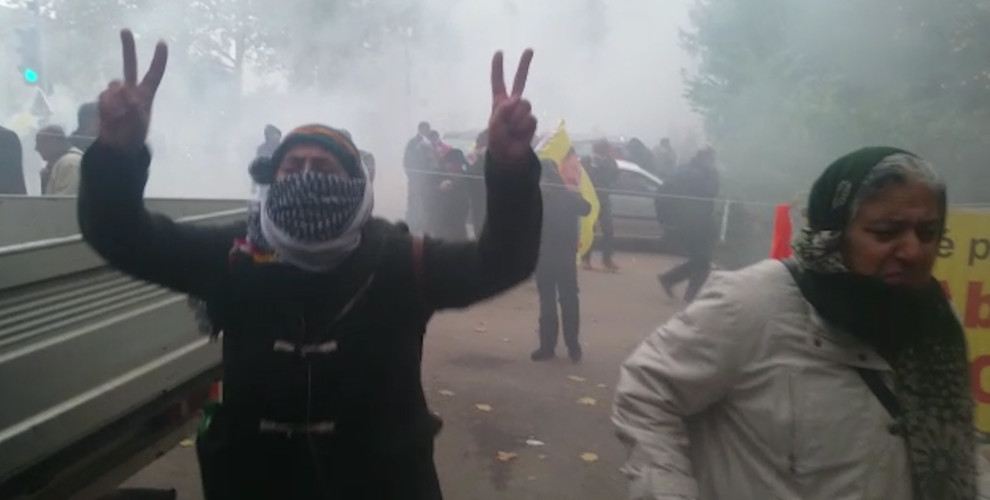 Today, at 12.30 in Strasbourg, in front of the Council of Europe, French police intervened the activists who were about to read a press statement explaining the freedom for Öcalan action they had organised.
After the statement was read, police attacked the activists who were walking towards the building of the Committee for the Prevention of Torture (CPT) with gas bombs, injuring a large number of people.
After the attack, a number of people were taken to medical facilities as they had been exposed to excessive amounts of gas or had been beaten by police.
Kurdish politician Süleyman Günyeli spoke after the police intervention to the thousands of people gathered in the area where the Freedom for Öcalan Vigil has been organised. He said that such repression would not stop Kurds.
Günyeli pointed out that the forces that destroyed the Middle East have left Kurds without any identity and will for a century, and reminded that it was then when Kurdish People's Leader Abdullah Öcalan and his comrades appeared and led the people.
"They wanted to erase us from history. They ignored us. - said Günyeli - Öcalan and his comrades have started a march of freedom in the mountains".
Süleyman Günyeli continued: "Now again they say: 'this time there will be no place for Kurds' but Kurdish people are standing up against it. We are saying: The strategy you are talking about was devised a century ago, and now it's gone. Now we are the ones who fight in the Middle East. That's why they're attacking us with gas bombs. They want to break our will. And who is our will? Leader Apo, the PKK".
Günyeli reminded that a conspiracy of forces handed over the Kurdish People's Leader to the fascist Turkish state 20 years ago.
Representatives of the various organizations and patriots who spoke later on at the demo emphasized that they would be resisting against the attacks and that the Vigil would not end until news of Öcalan were received.
German Left Party (Die Linke) representative condemned the police attacks and said they stand beside the Kurdish people.
Underlining the need to defend Öcalan's project for peace in the Middle East, the German politician condemned the French police attack with gas bombs.