Kurdish factor and oppression in Turkey discussed in EP
Owen called on international powers and said, "Support Kurds, throw Turkey out of NATO" and stressed the need for recognition for Kurds.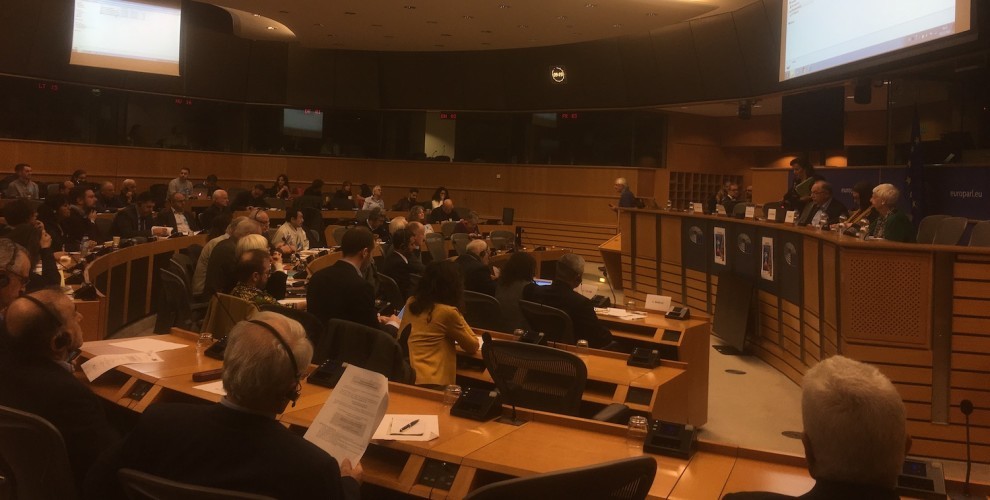 The 15th edition of the Kurdish conference held in the European Parliament demanded the release of Kurdish elected officials arrested by the Turkish state. Human rights lawyer Margaret Owen said Turkey is under a racist administration.
The conference is held every year under the lead of the European Union Turkey Civic Commission (EUTCC), Kurdistan National Congress (KNK), Brussels Kurdish Institute and KURD-AKAD with a wide base of supporters. Internationally renowned South African Nobel Peace Prize Laureate Archbishop Desmond Tutu, Iranian Nobel Peace Prize Laureate Shirin Abadi and American Prof. Noam Chomsky are among the supporters of the conference, which also include the European United Left - Nordic Green Left (GUE/NGL), the Greens and the Progressive Alliance of Socialists and Democrats (S&D).
WESTRHEIM: TURKEY IS NOW AN UNRELIABLE COUNTRY
The conference on the Kurdish factor in global politics started with opening speeches. The first speech was given by the European Union Turkey Civic Commission (EUTCC) Chairperson Kariane Westrheim who gave information about the content of the conference.
Westrheim said, "This time we will look at the Kurdish actors. We will analyze the current crises in Turkey and discuss what solutions can be developed. Turkey has now turned into an unreliable actor, and a country that treats its citizens aggressively. They don't heed any outside reactions."
Westrheim stressed the importance of the Kurds for stability in the region and stressed that Kurds should be supported. The EUTCC Chair said, "Kurds are actors waging an important struggle for stability and peace."
Westrheim saluted HDP MP Leyla Guven who is on a hunger strike, all hunger strike activists and Kurdish People's Leader Abdullah Öcalan.
PAPADIMOULIS: ELECTED OFFICIALS SHOULD BE RELEASED
European United Left - Nordic Green Left (GUE/NGL) European Parliament Deputy Chairperson Dimitrios Papadimoulis pointed out the European Court of Human Rights' (ECHR) ruling on the release of imprisoned former HDP Co-chair Selahattin Demirtas and said, "We demand the immediate release of Demirtas and other elected officials."
Papadimoulis said they continue to fight for a democratic Turkey and added: "We want to see a democratic Turkey, in a democratic world."
Papadimoulis concluded with pointing out the Kurds' fight against ISIS gangs and the pluralist system they built in Rojava.
ANA MIRANDA: I AM ALSO KURDISH
EP Greens/European Free Alliance Member Ana Miranda from Galicia, Spain said: "I am also Kurdish, I am also Palestinian, I represent the underrepresented or the nonrepresented. There are people that this parliament sometimes forgets about." Ana Miranda added that they always defend the Kurdish cause and added that they are to visit Ankara in December. Miranda said they will also visit Amed and meet with the HDP to see the situation in the region firsthand. Miranda said Papadimoulis will also accompany them and that their agenda will be the rights violations in Turkey, EU accession talks and the arrested elected officials.
Miranda added that they visited Turkey before and that they were shown as "friends of Öcalan", and demanded an end to human rights violations. Miranda also demanded the immediate release of Demirtas and questioned why the EU doesn't take a stand in accession talks with Turkey. "Turkey is drawing further away from the EU every day," said Miranda and talked about the reactions by Turkish representatives when she uses the word "Kurdistan" as she frequently talks about the Kurdish issue. Miranda added: "Erdogan doesn't seem likely to change."
OWEN: TURKEY IS UNDER A MISOGYNIST RACIST ADMINISTRATION
Special guest to the conference and unrelenting Kurdish ally of 20 years, international human rights lawyer from the UK Margaret Owen said: "Turkey is under a misogynist and racist administration. Erdogan is trying to make people forget about human rights and democracy completely."
ETHNIC CLEANSING IN AFRIN
Owen said the Turkish state is committing war crimes in Syria and pointed to the "terrible tragedy" the people went through in Afrin. Owen said chemical weapons were used in Afrin where there is an ongoing ethnic cleansing.
Owen argued that the British government also stands with the attacker, and added that Kurds have had everything taken away, young women and girls have been raped, atrocious crimes have been committed and that they need to speak up about these.
THERE IS A GENOCIDE IN TURKEY
Owen pointed to the arrest of Demirtas and said they will visit Turkey to attend his hearing next week. Owen said they will show solidarity in front of the court even if they are not allowed inside.
Owen said: "There is no freedom of press in Turkey, women's rights have deteriorated in every area, prisons have turned into concentration camps, there are more journalists in prison than the rest of the world, MPs have their immunities stripped, women's rights activists and everybody else are imprisoned. Kurdish youth, the bright young Kurds, they are in prisons. This is characteristic of genocides, they are trying to break the hope the young people have."
OWEN: I'M THINKING OF JOINING THE HUNGER STRIKE
Owen pointed out HDP MP Leyla Guven's hunger strike and added that Guven's health is in critical condition, and people have been showing support quickly. Owen said, "I'm also thinking of joining the hunger strike."
Owen also spoke about her visit to Rojava and said Rojava is an alternative for a solution. Owen said, "Kurds in Syria are trying to create one of the most peaceful and egalitarian examples in the world."
Owen called on international powers and said, "Support Kurds, throw Turkey out of NATO" and stressed the need for recognition for Kurds.
The first panel discussion started after the opening speeches. Human rights defender Akin Birdal, IHD Istanbul Chapter Co-chair Gulseren Yoleri, IHD Co-chair Ozturk Turkdogan, Öcalan's lawyer Ibrahim Bilmez, Europea Association of Lawyers for Democracy & World Human Rights (ELDH) Secretary General Thomas Schmidt from Germany and Permanent People's Court Secretary General Gianni Tognoni from Italy are among the speakers in the panel discussion.