"Kurdish Struggle" panel discussion at British Parliament
A panel discussion titled "The Kurdish People's Struggle for Democracy in Turkey" was held at the British Parliament.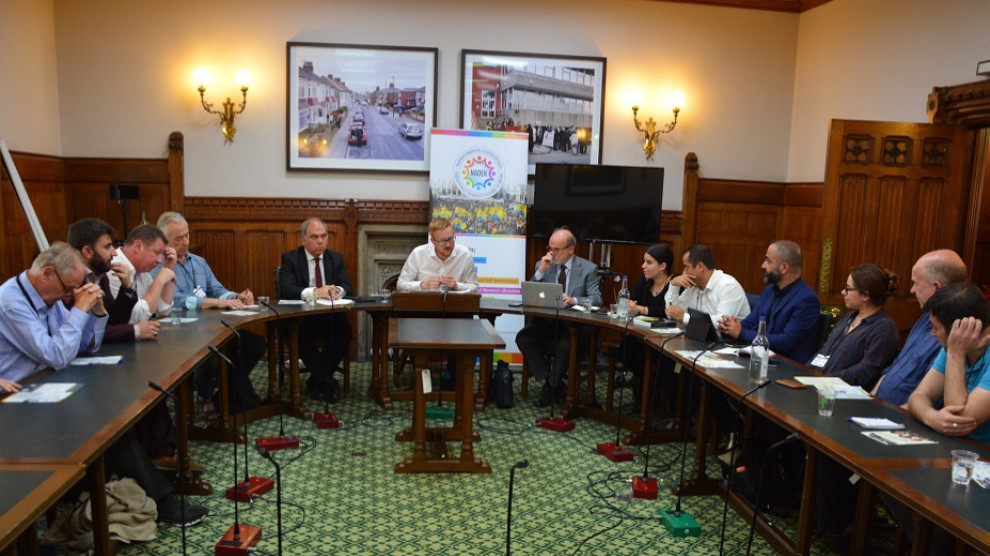 Participants of the panel discussion titled "The Kurdish People's Struggle for Democracy in Turkey" held at the British Parliament discussed the hunger strikes and death fasts against the isolation imposed upon Kurdish People's Leader Abdullah Ocalan which resulted in a victory, and political developments in general.
The event was held in the committee room no.17 in the parliament with attendance from MPs, journalists, activists and representatives from institutions. The panel discussion was organized by the All Parties Parliamentarians Group for Kurds and the Kurdish Popular Assembly, and among the speakers were Labour MPs Lloyd Russel Moyle and Bambos Charalambous, HDP Honorary Chairperson Ertugrul Kurkcu, Journalist-artist Zehra Dogan, hunger striker Haci Ozkan Ozdemir.
Asrin Law Office Lawyer Newroz Uysal participated via videoconferencing and among the attendees were Scottish National Party and Plaid Cymru MPs, Fr. Joe Ryan and Anna Campbell's father Dirk Campbell. MEP Julia Ward and Welsh MP Liz Saville Roberts sent written messages to the event.
CHARALAMBOUS: THE ISOLATION HAS LIFTED BUT IT'S NOT OVER YET
Labour Party MP for Enfield Bambos Charalambous said they are glad the isolation has ended, and continued:
"When I first heard what the Kurdish people have gone through in Turkey, I was shocked. I was glad that the hunger strikes achieved their goal and were ended. The hunger strikes led to further recognition for the Kurdish cause in the international arena and to further expose the dictatorial system in Turkey. Yes, Abdullah Ocalan is now able to meet with his family and lawyers, but that doesn't mean that everything is over and done with. The oppression that we will fight against still continues. Me and my colleagues will continue to stand with the Kurdish people's struggle."
MORDEN: THE STRUGGLE MUST GROW AND CONTINUE
Welsh MP for Newport Jessica Morden gave a short speech and said she is glad the hunger strikers' demands were met for the most part, but the struggle needs to continue and grow.
DOGAN: CIVILIANS WERE KILLED IN FRONT OF OUR EYES
Journalist-artist Zehra Dogan, who worked as a reporter during the self governance protests in Nusaybin and Cizre and was subsequently arrested, spoke about what she witnessed in Nusaybin, Cizre and Sur. Dogan said:
"The Kurdish people's demand to actualize self-government with their own identity was met with destruction. Kurdistan's cities were demolished, destroyed. There were intense attacks against self-government areas. The world did not want to see or hear this, there was not enough solidarity in the international arena. That is why they were able to manipulate and terrorize the demand for self-government. As a result of these attacks, towns like Nusaybin, Sur and Cizre were destroyed, thousands of people including hundreds of civilians lost their lives. In front of our eyes, mothers were murdered, citizens from a 35 day old baby to a 70 year old man were massacred by the police in the open."
KURKCU: TENS OF THOUSANDS OF PEOPLE ARE IMPRISONED FOR POLITICAL REASONS
HDP Honorary Chairperson Ertugrul Kurkcu spoke about the pressure against opposition groups in Turkey and said there are close to 40.000 people in prisons for political reasons.
"12 of our MPs, including our former co-chairs, are in prisons. 20 more are in the diaspora. There are some 40.000 people in prisons for political reasons. Over 12.000 of them are from the Kurdish opposition. There are 260.000 people in prisons in total, but the prison capacity is 220.000. Almost all channels for engaging with politics have been closed, over 90% of the media is controlled by Erdogan's government."
"ISTANBUL ELECTIONS ARE NOT LOCAL ELECTIONS ANYMORE"
Kurkcu spoke about the elections to be repeated in Istanbul on AKP's unlawful orders and said Erdogan will be defeated for a second time on June 23.
Kurkcu said the following:
"The Istanbul elections are not local elections anymore, they have turned into a sort of referendum. At this point, there are discussions on what stance the Kurdish voters are going to take. Of course Kurdish voters will support the HDP's election strategy. After all the destruction, massacres and arrests, the HDP still stands at the same position politically. There is a togetherness in the base, i.e. among the voters. Whatever the CHP's policy may be in the future, this togetherness in the base will play a huge role. Erdogan will be defeated for the second time on June 23."
Hunger striker Haci Ozkan Ozdemir gave a presentation and spoke about the hunger strikes and the outcomes they brought.
Asrin Law Office Lawyer Newroz Uysal attended the event via videoconferencing and spoke about their visit with Ocalan and the ongoing legal process.
The panel discussion ended after a Q&A session.