Kurds protest Pompeo in Berlin
Secretary of State Mike Pompeo was met by a protest of the Kurds during his visit to Berlin today.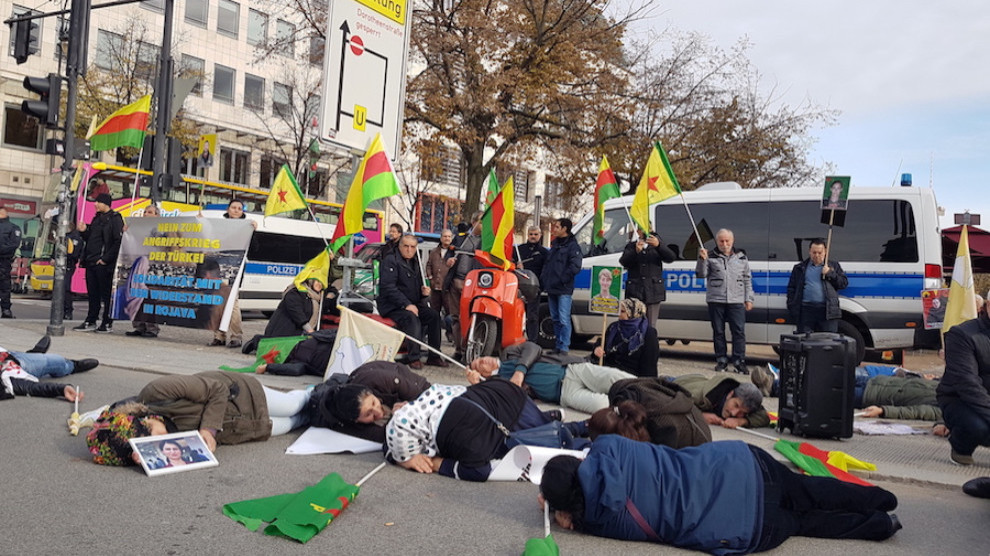 Kurds and their friends gathered at the Unter den Linden area, where the US and Russian embassies are located in Berlin, in the early morning hours on occasion of Secretary of State Mike Pompeo's visit to German capital city Berlin today.
The Council of Free Kurdistan People Society (CKA) Co-president Erhan Firat said that they organised the demonstration to denounce Turkey's genocidal campaign against northern Syria and the dirty relations between the states.
Firat stressed that Turkish President Tayyip Erdoğan committed crimes against humanity and war crimes and must definitively be brought to justice before an international court. "In the person of Pompeo, we protest all the States that turn a blind eye to the invasion and massacres of the Turkish state," he said.
Demonstrators marched to the US Embassy at Brandenburger Tor Square where Pompeo's meeting with German Foreign Minister Heiko Maas took place. They chanted slogans such as "Occupiers out of Kurdistan", "Terrorist Erdoğan", "German tanks out of Rojava", "Terrorist Erdoğan, hands off Kurdistan" and "Long live international solidarity".
The protesters displayed banners depicting the massacres perpetrated in Rojava, and photos of Kurdish politician Hevrin Khalaf who was brutally murdered by Turkish-backed mercenaries, and of German internationalists who fell in the battle in Rojava.