Labour and Freedom Alliance protocol handed over to the Supreme Election Board
The leaders of the YSP, TIP and EMEP signed the protocol between the parties forming the Labour and Freedom Alliance and handed it over to the Supreme Election Board (YSK).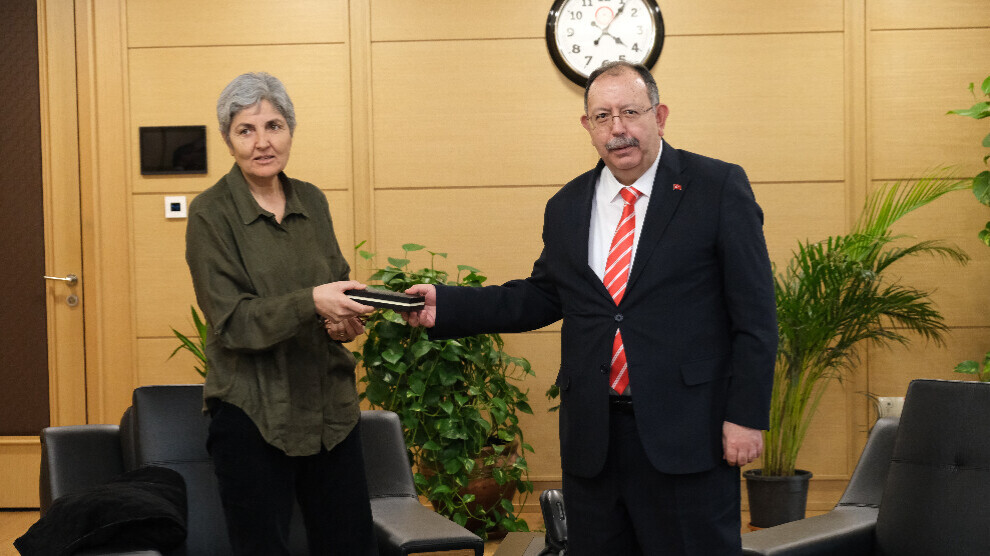 The leaders of the YSP (Green Left Party), TIP (Workers' Party of Turkey) and EMEP (Labour Party) signed the protocol between the parties forming the Labour and Freedom Alliance and handed it over to the Supreme Election Board (YSK) on Friday. The protocol contains the signatures of Çiğdem Kılıçgün Uçar and Ibrahim Akın (YSP), Erkan Baş (TIP) and Ercüment Akdeniz (EMEP). It was handed over to YSK Chair Ahmet Yener.
Parliamentary and presidential elections will be held in Turkey on 14 May. The Labour and Freedom Alliance, which also includes the HDP (Peoples' Democratic Party), TÖP (Social Freedom Party), EHP (Labor Movement Party) and SMF (Federation of Socialist Councils), has not put forward its own candidate for the presidential election. For the parliamentary election to take place at the same time, the HDP, as the largest party of the alliance, will run under the umbrella of the YSP in view of the ongoing proceedings to ban the party before the Constitutional Court.
The YSP, founded in 2010, has been building party structures throughout the country in recent months in order to be admitted to the elections. Within the Labour and Freedom Alliance, however, the HDP was able to assert itself with the demand to run with a common list. TIP candidates nevertheless want to carry their party logo alongside the common logo in order to reach voters who are distant from the Kurdish movement.
The text of the protocol is taken from the Declaration of Principles, which highlights the following:
"In this extraordinary phase we are experiencing, it is of great importance that the forces advocating labour, peace and democracy strengthen and resolutely continue the common and united struggle for the realisation of the most urgent economic and political tasks. This unity and struggle must also be a decisive and effective force in the new phase. This is also the expectation and demand of the people.
The common struggle, the strong and determined stance to be taken will be a march that will ensure the realisation of the urgent economic demands of the people and steps towards democratisation. This march represents the solidarity and alliance of the working people, the labourers, the poor, the women, the youth, the environment and the defenders of human rights. They all represent a common, strong and determined basis of resistance.
Our aim is to build a democracy based on the true sovereignty of the people on the basis of democratic, liberal and egalitarian principles. We can build a people-dominated social order based on labour, peace, freedom and democratic values. This is possible with the transformative power of the oppressed and exploited peoples."