Leyla Guven: My body won't give up before I do
Leyla Guven said: "My body won't give up before I do. What can kill me is those who remain silent in the face of this protest."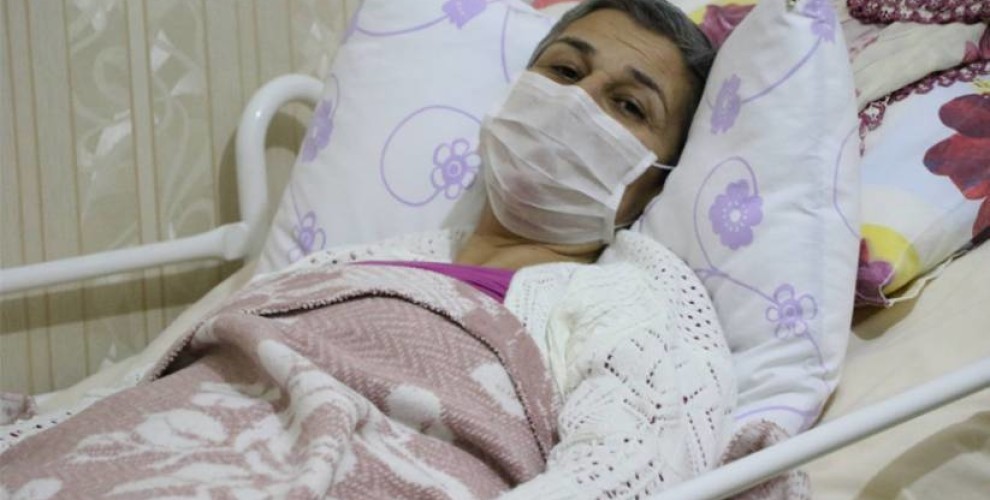 Democratic Society Congress (DTK) Co-chair and Peoples' Democratic Party (HDP) MP Leyla Guven is on day 100 of her hunger strike against the isolation.
The march from 15 cities with the motto, "On Day 100 To Leyla, To Break The Isolation", continues to face police barricades and attacks.
"I WON'T GIVE UP!"
Leyla Guven spoke to JinNews through her daughter Sabiha Temizkan and said the following on day 100 of her hunger strike:
"I have been resisting for 100 days, and prisoners have for 60. This isolation is nothing new, it has continued nonstop for 20 years. This isolation has spread throughout the country, starting with the Kurdish people. No will has ever been held alone on an island. Even if it has, none have strived for peace. Mr Ocalan has achieved just this. Our protest has made this 20 year old isolation a bit more visible. There have been protests against the isolation in the past, but they would drop out of the loop after a while.
Can a person resist for 100 days? Yes they can. I learned during this protest that human beings are miracles, manifest through force of will. I started this action daring to die. I would resist whether the isolation ended or not, and because I had faith in this, my brain had a hold on me. I resist this injustice and unlawfulness. My body won't give up before I do.
As the 100th day rolls in, I continue to resist, so do our MPs. I was fully convinced when I started this protest, and I laid my self on the line. I would either succeed, or I would lay down to die until the isolation ended. The inner peace gave my brain dominion over my body. My body is melting away, yes I am aware of that, but that detracts nothing from my morale or my strength. I have peace because I am doing something against this injustice. The second point is that, my body won't give up before I let it.
"WHAT KILLS ME WILL BE THOSE REMAINING SILENT"
What kills me will be those remaining silent in the face of this protest. This protest is a test for society. Those who fail this test won't be able to say they are rights defenders, or even human beings tomorrow. When a woman has faith, no force can keep her from her values. Because when women believe in something, they follow through.
Of course I would like to live and see peace reign in this country. But if there is a price to pay, I will pay it without a blink. For this, I continue with great morale and faith. I receive dozens of letters from prisons. Every friend in prison is a thousand times more free than those on the outside. The truly isolated are those who give up on resistance on the outside. What keeps me going is the resistance in prisons and the resistances led by women. The protests that continue on day 100 under the lead of women. Yes, if women have faith the world will change. Peace will come. If women have faith, great tolerance will take over the world. We will live free, or we won't live at all."