London proposes sanctions for freedom of press violations
A London based conference on press freedom criticized Western countries for their approach, including the US, while the UK proposed sanctions for countries that violate press freedom.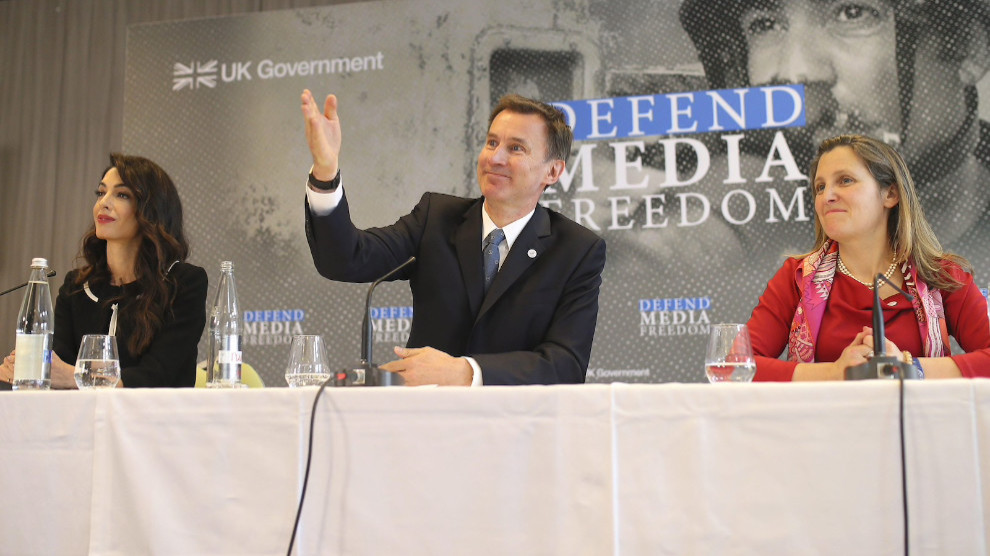 UK Secretary of State for Foreign Affairs Jeremy Hunt spoke at a conference on press freedom and said countries where journalists are mistreated must suffer the diplomatic consequences.
Hunt stressed the need for a joint stance on press freedom and added that countries violating journalists' rights can be made to pay a diplomatic price this way.
JOINT WORKING GROUP TO BE FOUNDED
Hunt spoke at the conference that was organized together with Canada with participation from over 1.500 journalists, academics and dozens of ministers from many countries. In his speech Hunt mentioned Jamal Qashoggi, the Saudi national journalist who was murdered in Turkey in 2018.
Hunt gave examples of journalists being arrested in China and Vietnam as well as many journalists dying at the hands of gangs in Mexico, and announced a new working group to be founded with Canada.
The working group by the two countries will exert joint pressure in times of attacks against press freedom, said Hunt, and added that his own country is ranked 33 for press freedom. Hunt said the UK "must do more" on press freedom.
CLOONEY: TRUMP PUTS ALL JOURNALISTS AT RISK
Human rights defender and lawyer Amal Clooney spoke at the conference and pointed to US President Donald Trump's comments against journalists.
Clooney said Trump's words put all journalists around the world at risk: "James Madison's country (the US) has a president who excludes media and makes honest journalists around the world vulnerable to mistreatment (Trump)."
Clooney spoke about WikiLeaks founder Julian Assange's arrest in the UK and said the charges brought against Assange have put journalists on alarm throughout the world.
According to information provided at the joint UK and Canada conference, the UK has allocated 3 million pounds for legal support for journalists and safety training. There is another 15 million pounds to be spent on independent media organizations.