Manbij Military Council: International Coalition to stay
Commander Mihemed Abu Adil confirmed Turkish troops and its mercenary allies did not enter the city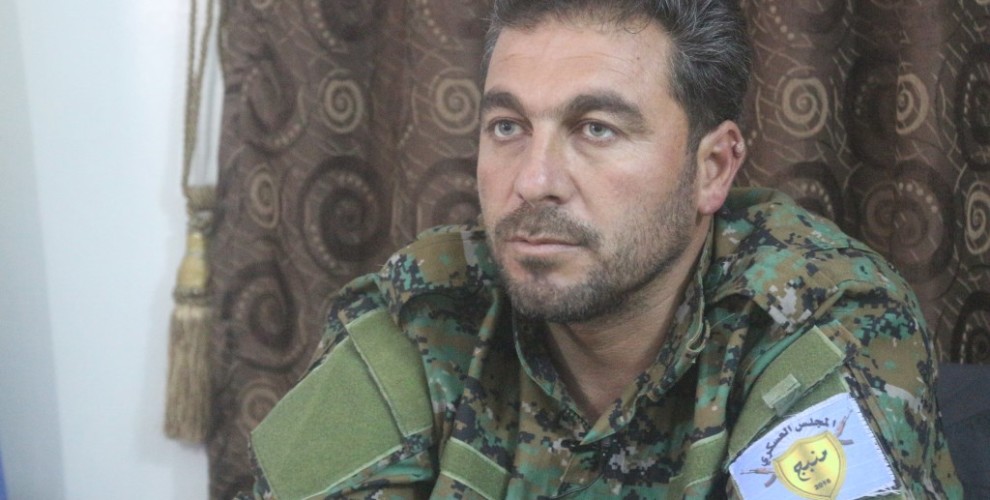 Mihemed Abu Adil, General Commander of Manbij Military Council, spoke to ANHA about the meeting they had with US military officials, in Manbij on Thursday.
Ebu Adil said that US officials stressed that the International Coalition will continue to protect Manbij security. 
The Commander also repeated that the Turkish state's troops had not enter Manbij.
Mihemed Abu Adil, speaking after the close-door meeting with US military officials who are in Manbij, said that the International Coalition reiterated it would remain and protect the city and villages together with Manbij Military Council.
Ebu Adil added that the US delegation has confirmed that Turkish army patrols are on the line of the Euphrates. He said that the patrols of the US forces are patrolling around the Manbij Military Council.
Ebu Adil confirmed also that the patrols were aimed at preventing the clash between the Manbij Military Council and the invading Turkish mercenary allies.
US military officials, including General Joseph Votel, Commander of the US Central Command (CENTCOM), visited Minbic on Thursday. 
The delegation walked around the city streets, and then had a close-door meeting with the officials of Manbij Democratic Civil Administration and Manbij Military Council.