March for justice in Paris: We know the murderers
Kurds and allies gathered in Paris on the anniversary of the murder of 3 revolutionary Kurdish women 6 years ago and marched from Gare du Nord to the Republique Square.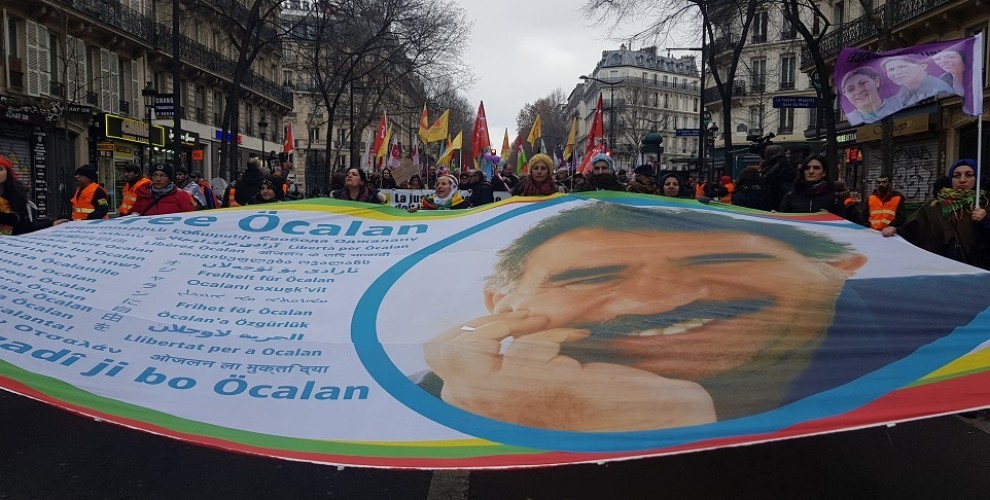 The murder of three revolutionary Kurdish women in Paris 6 years ago was protested today in a mass march.
Buses, trains and private vehicles brought thousands of people from all around Europe into Paris. The crowd gathered in Gare du Nord and started to march by midday. Organizers say attendance has increased since last year but didn't give a concrete number. Estimates are at over 15.000 participants.
The protesters held photographs of PKK founding member Sakine Cansiz, KNK Paris Representative Fidan Dogan and Kurdish youth movement member Leyla Saylemez and chanted slogans against the Turkish state.
A giant poster of Kurdish People's Leader Abdullah Ocalan was also carried in the march, and protesters pointed to the hunger strikes and demanded immediate visits to Ocalan.
Families of the 3 murdered women, their friends and comrades as well as administrators from Kurdish institutions were present in the march.
Dozens of women's organizations like the World Women's March and political parties and organizations like the Communist Party France attended the march. Leftist organizations from Turkey and people from various ethnicities in France were also present in the march where the crowd chanted "We know the murderers" and demanded France put the perpetrators and instigators on trial.
Throughout the march, speakers said, "We know the murderers, we are not telling you to bring them to light as everything is clear as day already, you must put them on trial".
The slogan of the march this year was "For justice against impunity".
"ERDOGAN GAVE THE ORDER"
Communist Party France Leader Pierre Laurent spoke to the ANF and said: "We know Erdogan gave the order for this massacre. We want this struggle to be pursued to the end."
France-Kurdistan Association Administrator Sylvie Jan said, "We know the basic facts," and continued: "Our demand from French justice now is to openly declare those who ordered the massacre, to put them on trial and to convict them."
"UNTIL THE MURDERERS COME TO LIGHT"
KONGRA-GEL Co-chair Remzi Kartal said, "Our people are seeking justice, this search will continue until the true murderers are brought to light." KNK administrator Zubeyir Aydar said, "Everything is completely clear. This is an assassination completely planned by the government in Ankara."
The march has reached the Republique Square for the rally where politicians and NGO representatives are expected to give speeches.