Memorial for martyrs Ronahî and Berîvan in Mannheim
Ronahî and Berîvan, two martyrs of the Kurdish freedom struggle, were commemorated at the place where they carried out their protests in Mannheim.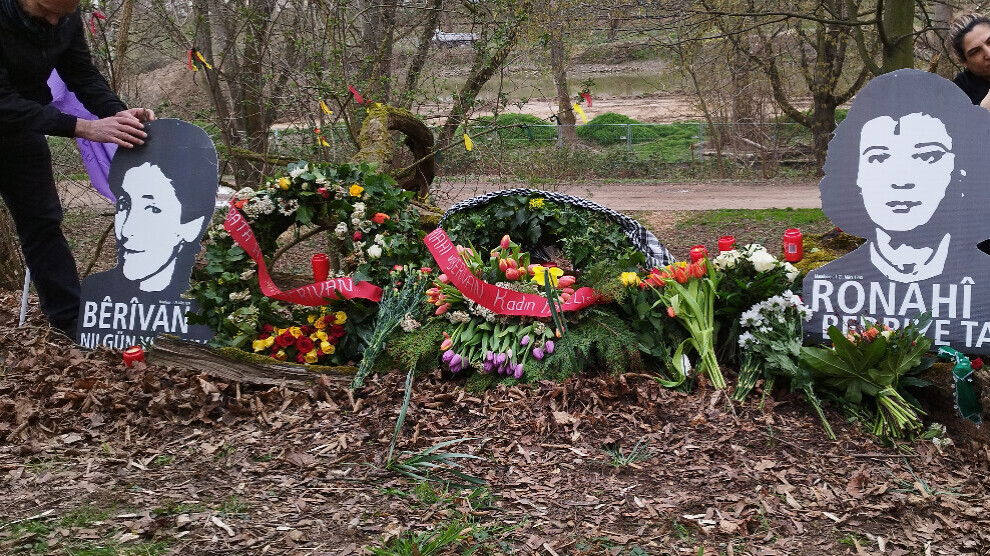 Bedriye Taş (Ronahî) Nilgün Yıldırım (Berîvan), who set their bodies on fire to protest the unlawful policies of the German state against the Kurdish people on 21 March 1994, was commemorated with a ceremony held at the place where they fell as martyrs.
Ronahî-Berîvan Women's Council organized a march to the memorial chanting slogans such as "Martyr Namirin" and "Jin, Jiyan, Azadî". Cennet Taş spoke on behalf of the family and said: "I bring the greetings of Ronahi's mother."
Zeynep Bafe, speaking on behalf of the European Kurdish Women's Movement (TJK-E) said that the action of Ronahî and Berîvan helped to make victory closer. Bafe reminded Reber Apo's [Abdullah Öcalan] words about the action. He said that 'if freedom were easy, Ronahî and Berîvan would not have burned themselves.'
Bafe said: "The spirit, courage, devotion and determination of Ronahî and Berîvan are embodied in their comrades who resisted in Zap, Avaşin and Metin today." The commemoration ended with the reading of the letter that the two revolutionary women left before their action.