MEPs call for an end to arms sale to Turkey
Members of the European Parliament heavily criticized Turkey and called for an end to aid and arms sale to Turkey.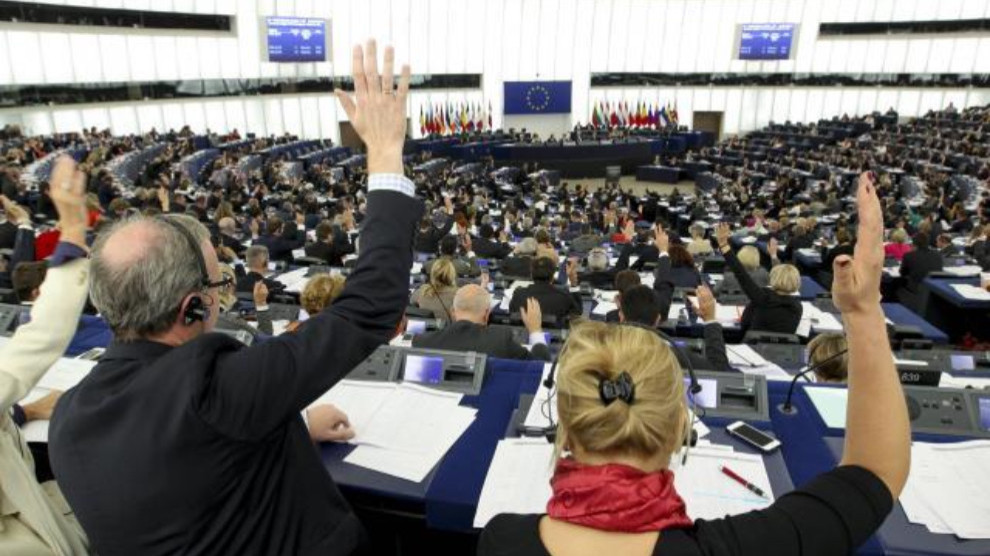 The European Parliament's plenary session in Brussels, titled "Stability and security in Eastern Mediterranean and the negative role of Turkey" has witnessed criticism against Turkey.
Josep Borrell, High Representative of the Union for Foreign Affairs and Security Policy, who is accused of being "tolerant" of Turkey, also came under criticism. MEPs discussed with Josep Borrell both the situation in the Mediterranean and Turkey's problematic role in the region and the situation in Belarus.
The session witnessed strong words directed against the Turkish state's occupation policies in Eastern Mediterranean and Libya. Describing Turkey as "an authoritarian regime", most of the MEPs called for the accession talks with Turkey as well as the EU financial support for Turkey to be ended immediately.
EU Rapporteur for Turkey, Nacho Sanchez Amor said they stood in solidarity with Cyprus and Greece and stressed that Turkey must respect the European norms.
Manfred Weber, Chair of Group of the European People's Party (Christian Democrats) called for the membership negotiations with Turkey to be suspended and for a new partnership to be established.
French parliamentarian Nathalie Loiseau of the Renew group stated that Turkey turned its back on European values and acted with hostility. He said they expected Josep Borrell to not be diplomatic but to stand firm regarding Turkey.
German parliamentarian Özlem Demirel from the Group of the European United Left – Nordic Green Left said; "You are right to cricitise Turkey. Then stop the arms sale to Turkey."
French parliamentarian Thierry Mariani of the Identity and Democracy (ID) group accused Borrell of being actionless toward Turkey and asked him; "Do not let yourself make history like Edouard Daladier and Neville Chamberlain." Daladier and Chamberlain were the Prime Ministers of France and United Kingdom at the outbreak of World War II and were strongly crticised for appeasement toward Adolf Hitler's Germany.
Cypriot parliamentarian Costas Mavrides from the Group of the Progressive Alliance of Socialists and Democrats criticised Germany's ongoing arms sale to Turkey and said that Turkey would be using these arms against the values of Europe.
MEPs also discussed Turkey's drilling in Cyprus' Exclusive Economic Zone, where six operations have been launched so far and more are planned.The daily violations of Greek airspace are continuing and Turkey's Foreign Minister threatened to "not hold back those who want to leave" for Europe. Furthermore, Turkey also plans to drill in Greek maritime space, near Crete.
"Turkey is an important partner for Europe, but Turkey's gunboat diplomacy, the illegal drilling in the Exclusive Economic Zone of Cyprus, the violations of Greek airspace and it's attacks on the Greek border are not examples of a constructive partnership. On the contrary, the Turkish government's actions are currently aggravating tensions in the Mediterranean region, putting stability and security in Europe in danger. We must be prepared to do more to protect ourselves against Turkish aggression on our southern borders", stressed Manfred Weber MEP, Chairman of the EPP Group.
"The European Union cannot be blackmailed and threatened, and stands united against those leaders who violate international law, principles and values", insisted Vangelis Meimarakis MEP, Head of the Greek Delegation of the EPP Group. "The European Parliament plenary debate on Turkish provocation sends a coordinated and strong signal to President Erdogan that he has crossed the line and that if he continues to challenge Europe, there will be a single and immediate response", he added.
Such a response might consist of sending the naval forces of EU Member States to monitor and reinforce the protection of the Cypriot and Greek borders, suggested Lefteris Christoforou MEP, Head of the Cypriot Delegation of the EPP Group. "I call upon the EU and its Member States to take immediate and decisive action to stop the Turkish aggression against Cyprus and Greece, and to protect their maritime borders - which are also EU borders - with their naval forces", he concluded.