Mother of Hevrin Khalaf at EP: Join hands against Erdoğan
Speaking at the Kurdish Conference at the European Parliament, mother of Hevrin Khalaf called on women of the world to join hands against the Erdoğan regime.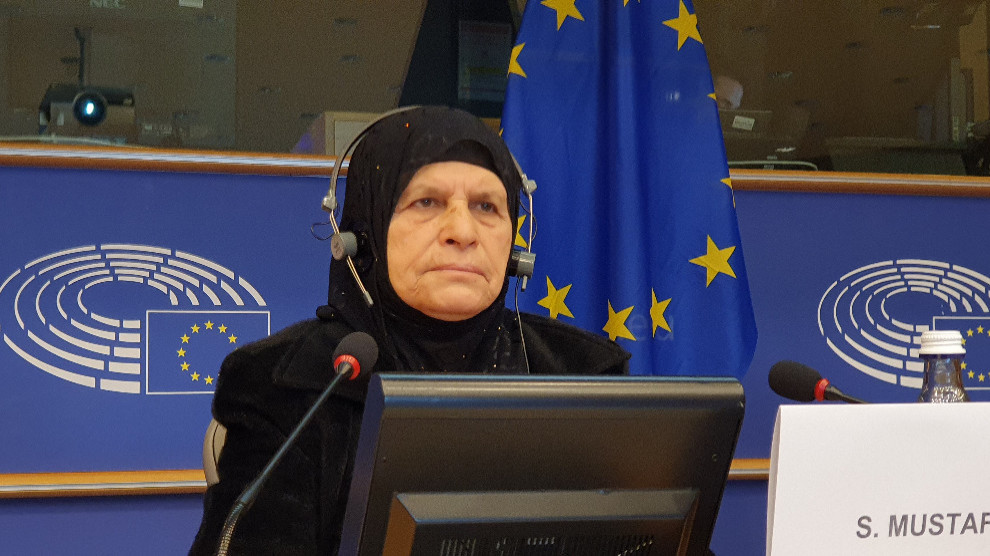 The Kurdish conference at the European Parliament continues on its second day with speeches by representatives from North and East Syria.
Suad Mustafa, mother of Kurdish politician Hevrin Khalaf who was murdered by Turkey's mercenaries on October 12, also spoke at today's session of the conference.
Mustafa started with: "I have brought you greetings from the people of Rojava, the grounds of resistance".
Defining the Rojava revolution as a women's revolution, Mustafa said this revolution was targeted by Turkish President Recep Tayyip Erdoğan whom she described as an "enemy".
Mustafa continued; "The invasion began on October 9 and targeted Hevrin Khalaf and brutally murdered her on October 12. Mother Aqida headed to Serekaniye for peace on October 13 and they murdered her too. They hit humanity over women as the revolution of Rojava is a women's revolution."
The mother continued: "Hevrin's voice became the voice of the world, the voice of humanity. She became a symbol and a value for women's freedom."
A CALL TO THE WORLD…
Mustafa stated: "This enemy does not recognize humanity. There are millions of Hevrin today. They rose up against this fascist (Erdoğan) and will continue to do so. My call to women of the world: Join hands and raise one voice against Erdoğan and his supporters and say: "We are Hevrin Khalaf, we will confront you, we are Arin Mirkan on Mishtenur hill".
HASSAN: EU SHOULD GIVE POLITICAL SUPPORT
Syrian Democratic Council Co-chair Majdoleen Hassan pointed out women's role at the center of the Rojava revolution and called on the European Union to give them political support and contribute to their political project.
BARAKAT: ERDOĞAN WANTS TO BREAK THE WILL OF KURDISH WOMEN
Kongra Star representative Hatice Barakat from Germany noted that many invited guests from Rojava could not attend the conference as they were denied visa.
Telling about the establishment and works of Kongra Star, Barakat emphasised the role of women in the revolution and said women created everything in Rojava with their own hands.
Denouncing the acts of Turkey's Erdoğan who treats Rojava as an enemy, Barakat told about the invasion of Afrin, Serekaniye (Ras al-Ain) and Gire Spi (Tal Abyad).
The Kongra Star representative pointed out that women are the primary target of the occupation forces as they are abducted and murdered in line with Erdoğan's intention to break the will of Kurdish women, which -she said- will never accomplish.
Remarking that Erdoğan seeks to eradicate the Kurds, Barakat said the world should not remain silent on this.