Mural in memory of Ceylan Önkol in London
Artist and journalist Zehra Doğan commemorated with a mural in London twelve-year-old girl Ceylan Önkol, who was killed by Turkish state forces in Amed ten years ago.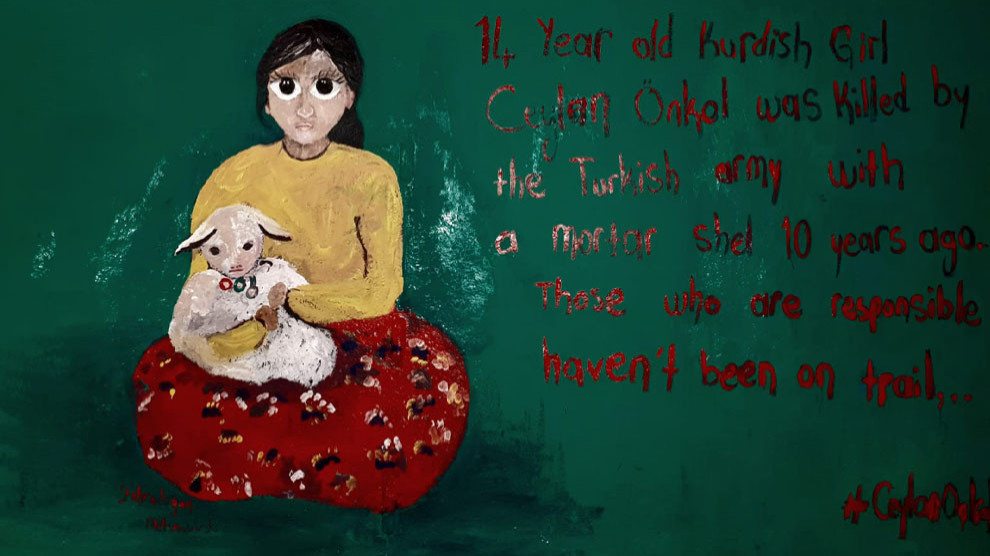 Ceylan Önkol (12) was killed by the mortar shell fired from Yayla outpost while she was grazing her animals on September 28, 2009 in the village of Şenlik in the Lice province of Amed (Diyarbakır).
On the occasion of her tenth death anniversary, artist and journalist Zehra Doğan painted a mural in London to commemorate Önkol.
Born in 1997, schoolgirl Ceylan Önkol was on a hill in the hamlet of Xambak, which belongs to the village of Xiraba (Şenlik), to graze sheep and goats near her parents' home on the day of her violent death.
Villagers said there was a sound in the air followed by an explosion. Shortly after the explosion Ceylan was found dead with her midsection shredded.
The scene villagers found in front of their eyes was horrendous: body parts were scattered over 150m with some landing in the branches of nearby trees. Despite the massive damage to her midsection witnesses say her legs and feet as well as her arms, hands and head were relatively uninjured.
The authorities were contacted and the family waited at the scene for what they expected to be military security forces, a doctor, and the local prosecutor. Nobody arrived. After six hours of waiting the family was informed that the doctor and prosecutor would also not be coming because they feared for their safety.
The village Imam had been instructed to take photographs of the scene and the family was asked to gather the girl's remains and bring them to the police station in Bingöl province where an autopsy could be performed. According to local protocol the prosecutors should have conducted the autopsy at the scene.
The Human Rights Association (IHD) stressed that the prosecutor did eventually arrive: it was three days later and it was then he conduct his "investigation".
Ceylan Önkol's mother at the time cried out: "My Ceylan was torn to pieces. Why was my child killed for no reason? Who is going to answer for this?"