Newroz celebration in Frankfurt begins
The central Newroz celebration has begun in Frankfurt. The participants have come from all over Germany, many are wearing traditional clothes and waving flags.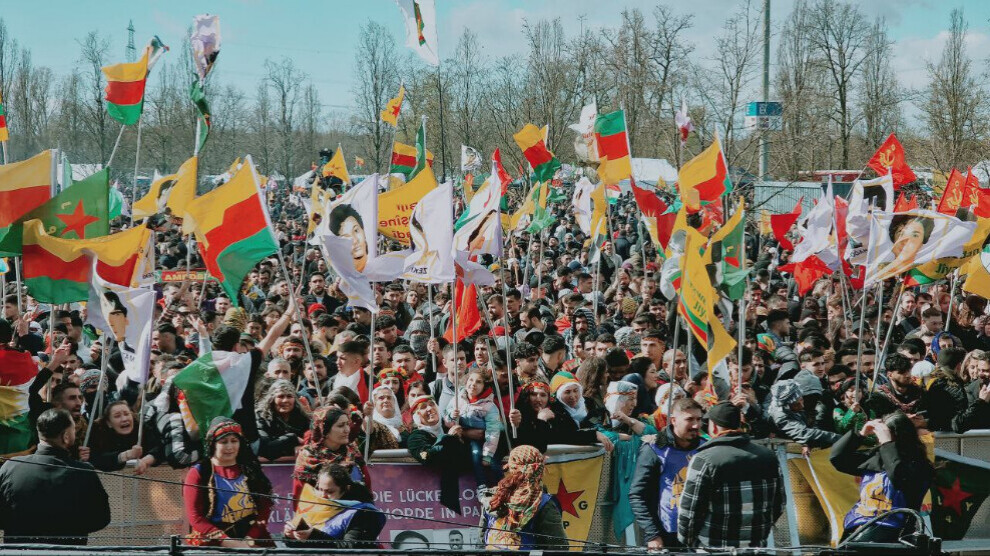 The central Newroz celebration in Frankfurt has begun. People from all over Germany have travelled to the Rebstockpark for the celebration organised by the Kurdish umbrella organisation KON-MED (Confederation of Kurdish Societies in Germany) and other organisations. Many participants wear traditional Kurdish clothes and wave flags. The area is decorated with yellow-red-green colours. Banners displayed by the participants read the slogan "Jin Jiyan Azadî" (Woman, Life, Freedom) and "Başûr, Bakur, Rojava, Rojhilat - Kurdistan yek welat" (South, North, West, East - Kurdistan is one country).
The Newroz celebration in Frankfurt takes place in memory of the victims of the earthquake catastrophe on 6 February, whose epicentre was in Kurdistan.

According to the organisers, the co-chairs of KON-MED, Zübeyde Zümrüt and Engin Sever, will give the welcome speech. The KCK (Kurdistan Communities Union) and KJK (Community of Kurdistan Women) will have separate messages for the participants. Further on, there will be performances by musicians, dance groups and political representatives.
Other participants include Xalit Rojava, Demir Çelik (FEDA), Mike Josef (SPD), Serhat Med (MARDEF), Zeynep Murad (KNK), Deborah Düring (Die Grünen), Kevana Zerin, Kaweh Masoori (SPD), Diyar Mavrovi, Koma Soran, Philipp Jacks (DGB Frankfurt), Lale Koçgün, Janine Wissler (Die Linke), Hossein Safamanesh, Hasan Şerif and Tamil and Baloch representatives.