Northeast Syrian delegation continues its diplomatic work in the US
The northeast Syrian delegation, led by Ilham Ehmed, is continuing its diplomatic journey through the United States. After receptions in the White House and the State Department, talks were held with senators and representatives of the US Congress.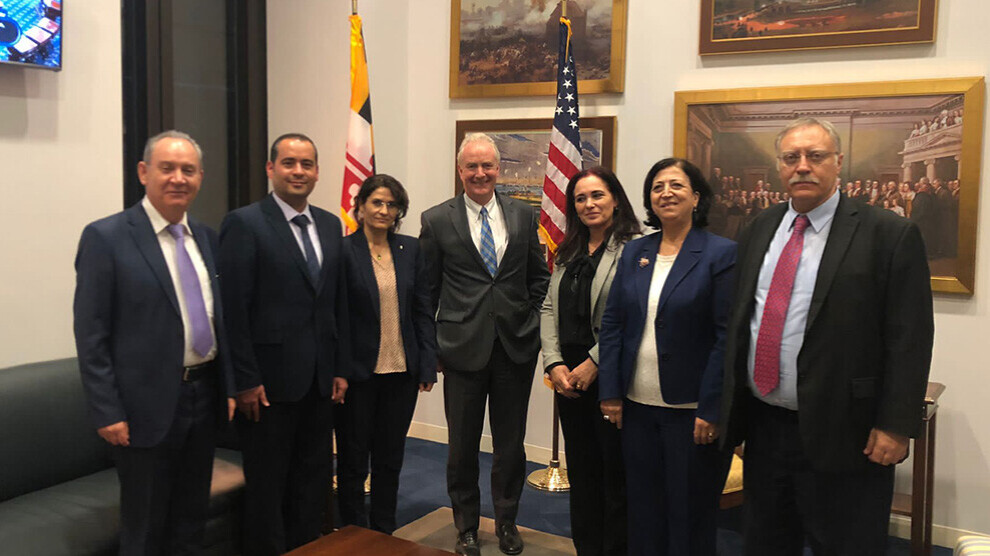 Top diplomats from the Autonomous Administration of Northern and Eastern Syria met in Washington with a group of senators and representatives of the US Congress to discuss the Syria crisis and questions about counter-terrorism and regional stability.
Attending the meeting were Senator Chris Van Hollen and Congressmen Lois Frankel and Adam Smith. Talks were positive, according to a statement by the delegation headed by the chair of the Executive Committee of the Syrian Democratic Council (MSD), Ilham Ehmed. There was an intensive exchange about the Syrian conflict, which has been going on since 2011, and about the possibilities for a political solution. The importance of the role of the US in the search for a "comprehensive solution" to the crises in the war-torn country was also discussed "in accordance with international resolutions", above all UN Security Council Resolution 2254.
The US representatives reaffirmed their support for the Syrian Democratic Forces (SDF) and their fight against terrorism. "The need to maintain the presence of US troops in Syria and their partnership with the SDF until a sustainable political solution is reached in Syria was emphasized," said the delegation.
The meeting with the US Congress members is part of a series of high-level discussions between leaders from Northern and Eastern Syria and US politicians. Previously, the delegation, whose other members Nazira Gewriye as a representative of the Autonomous Authority in Jazira, Dr. Ghassan al-Youssef from the Civil Council in Deir ez-Zor, Bassam Saqr from the MSD Presidential Council and Sinem Muhammad, MSD representative in Washington, were received at the White House and the US State Department. Further meetings took place with representatives from civil society and business