Open letter to UK Prime Minister Johnson about Turkish war crimes and use of chemical weapons
Open letter to UK Prime Minister, Boris Johnson, and to Keir Starmer, leader of the opposition, about Turkish war crimes and use of chemical weapons in Syria and Iraqi Kurdistan.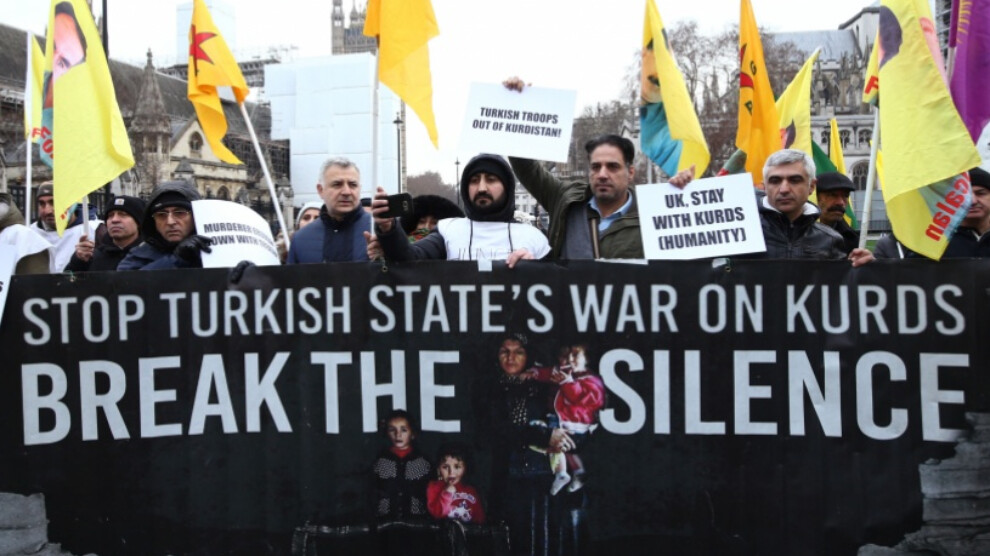 The Coalition Against Chemical Weapons in Kurdistan, Peace in Kurdistan, Campaign Against Criminalising Communities (CAMPACC) and Defend Kurdistan Initiative UK and a long list of organisations and people sent an open letter to UK Prime Minister, Boris Johnson, and to Keir Starmer, leader of the opposition, about Turkish war crimes and use of chemical weapons in Syria and Iraqi Kurdistan.
The open letter reads as follows:
"Dear Prime Minister
Increasing evidence is emerging of the Turkish Government's use of illegal chemical weapons in its current military campaign against the Kurds in Syria and Iraq.
There are mounting written reports documenting various incidents where unknown chemicals are suspected of being used on Kurds. Eyewitness accounts have been gathered by journalists who have managed to get to the region and victims have described the injuries that they have suffered.
The reports of how Turkey is conducting its war against the Kurds are provoking a reaction among Kurdish communities in the UK.
Protests have already been held in London and other parts of the country by the Kurdish community to express their growing disquiet about Turkey's actions and the apparent failure of the British Government to respond.
Politicians need to address the growing public anxieties on this issue which is one of life and death for Kurdish people, many of whom have friends and relatives who have been victims of Turkey's actions, which allegedly involve the repeated use of banned chemical weapons.
We should all be concerned about the latest alarming report of what Turkey is getting up to and what it appears to be seeking to get away with. We realise that other conflicts closer to home are drawing the attention of politicians and the media, but it cannot be right to allow Turkey to have a free rein to do as it likes in its military campaign against the Kurds. Ankara's alleged use of chemical weapons should be of critical concern for us all.
The fact is that Turkey has launched an unprecedented onslaught on the Kurdish people, in a campaign whose scale and aims have been described as genocidal. President Erdogan masterminds Turkey's campaign. It is systematic, ruthless and involves direct attacks on Kurdish institutions, repressive measures targeting Kurdish culture, the arrest of Kurdish politicians and jailing journalists. And now the alleged use of the kind of weapons that are in breach international law.
Kurds fear that Turkey's true war aim is to completely erase their very existence as a people.  The use of chemical weapons in the field of battle forms part of an all-out war on them.
In their response, Governments insist that there is no substantial evidence that Turkey is using chemical weapons; that is, there is no substantiated evidence. This can easily be corrected by supporting a proper investigation to establish whether such weapons have in fact been used.
We hope therefore that you can agree that we urgently need to establish the facts and that independent verification is the only course of action to achieve this. 
The UK should accept its responsibility for bringing an end to this war and it should also be alert to the real dangers of escalation and regional destabilisation that the ongoing conflict could provoke. 
President Erdogan justifies his actions by claims that he is simply targeting "terrorists". His words cannot be accepted on trust, as he has a track record of exaggerated claims. Clearly, Turkey's perspective on this conflict does not reflect the full picture. The Kurds also need to be listened to and at present they are telling us that they are the victims of chemical attacks.
Britain cannot escape its involvement in this conflict between Turkey and the Kurds, which is one of historic proportions. This is one of the great unresolved international disputes with roots in the settlement reached at the end of the First World War where Britain played a central role.
There is also the issue of Britain's sale of arms to Turkey, which we urge you to halt while there are reports that weapons marked "made in Britain" have been used to kill and maim Kurdish people. It is even alleged that British supplied the very weapons that have been used illegally to carry out deadly chemical attacks.
At present Kurds feel that nobody is listening to them, that nobody cares about their plight. They are becoming convinced that there is a complicity at the highest levels in Turkey's actions. The silence and obfuscation from Government only reinforces these impressions.
Britain has an opportunity to put these fears to rest. We urge the British Government to press for a full investigation into these serious allegations about the use of banned chemicals. An investigation will establish once and for all the truth about how Turkey is conducting its war.
Taking such action will help bring an end to the war as it will be an important step towards assisting the search for peace between Turkey and the Kurds, which is the only sensible outcome to which everyone should be working.
These are critical matters, and we urge you to act urgently.
 Yours respectfully,
The Coaltion Agaist Chemical Weapons in Kurdistan, Peace in Kurdistan, Campaign Against Criminalising Communities (CAMPACC) and Defend Kurdistan Initiative UK on behalf of supporters
Baroness Jones of Moulsecoomb, Green Party Member of the House of Lords
Chris Stephens MP, Glasgow South West 
Bill Ramsay, Ex-President Educational Institute of Scotland and Convenor of Scottish National Party Mick Antoniw MS, Senedd Constituency Member, Welsh Labour Group, Counsel General and Minister for the Constitution
CND (Campaign for Nuclear Disarmament)
Prof. Dr Tayseer A.Alousi, Secretary General of the Arab Assembly for Supporting Kurdish Issue and 
President Sumerian Observatory for Human Rights Netherland
Lord Hylton, House of Lords
Baroness Christine Blower, House of Lords
Francie Molloy, MP for Mid Ulster, Ireland
Dafydd Iwan, Former President Plaid Crymru, Wales
Margaret Owen. O.B.E. barrister, President Widows for Peace through Democracy (WPD) 
Lindsey German, Convenor Stop the War Coalition
Julie Ward, former MEP
Maxine Peake, actress
Mary Davis FRSA, Visiting Professor of Labour History at Royal Holloway University of London
Steve Sweeney, International Editor, Morning Star
Doug Nicholls, General Secretary, General Federation of Trade Unions
Andrew Feinstein, Executive Director, Shadow World Investigations
Dimitri Roussopoulos, writer, editor, publisher, political activist, Canada
Tony Simpson, Bertrand Russell Peace Foundation
Tom Unterrainer, Bertrand Russell Peace Foundation
Shavanah Taj, General Secretary Wales TUC
Dr. Thomas Jeffrey Miley, University of Cambridge
James Kelman, author, Scotland
Nick Hildyard, policy analyst
Ramsey Kanaan, publisher, PM Press
Tony Shephard, musician and graphic designer
Geoff Shears, Vice-Chair of the Centre for Labour and Social Studies(CLASS)
Bert Schouwenburg, International Trade Union Advisor
Rahila Gupta, writer
David Morgan, journalist
Jonathan Bloch, writer
Stephen Smellie, Deputy Convenor UNISON Scotland and NEC member
Dr Goran Abdullah, Edinburgh
Saleh Mamon, Campaign Against Criminalising Communities (CAMPACC)
Professor Felix Padel, research associate at Center for World Environmental History, University of Sussex
Professor Kariane Westrheim, Chair of EU Turkey Civic Commission (EUTCC)
Professor Michael Gunter, General Secretary of EU Turkey Civic Commission (EUTCC)
Dr Stephen Hunt, writer   
Dr Sarah Glynn, Strasbourg, France
John Hunt, journalist
Dr Federico Venturini, University of Udine, Italy
Ulisse Pizzi, geologist, UK engineering consultancy
Professor Bill Bowring, School of Law, Birkbeck College, University of London
Mike Mansfield QC, barrister
John Hendy QC, barrister
Paul Scholey, Morrish Solicitors
Dr Phil Frampton, author
Andy Walsh, Chair, Greater Manchester Law Centre
Greta Sykes, writer and artist
Aonghas MacNeacail, Scottish Gaelic poet
Dr Anni Pues, international human rights lawyer 
Dr Fiona Woods, Lecturer, Technological University Shannon, Ireland
Professor Barry Gills, Fellow of the World Academy of Art and Science 
Penelope Dimond, writer and actor
Sarah Parker, Anti-Capitalist Resistance
Maggie Cook, UNISON NEC member
Andreas Gavrielidis, Greek-Kurdish Solidarity
Dr. Michael Schiffmann, Linguist, English Department of the University of Heidelberg, Translator
Arthur West, Secretary, Kilmarnock and Loudon Trades Union Council, Scotland
Chiara Aquino, PhD Candidate, University of Edinburgh, Scotland
Alex Wilson, PhD student at York University in Toronto, Ontario, Canada
Kazhal Hamarashid, Board member of the Toronto Kurdish Community Centre, Canada
John McGowen, General Secretary Social Workers Union