Over 400 undocumented refugees on hunger strike in Brussels
In Brussels, over 400 "sans-papiers", people without papers, have been refusing to eat for 43 days. With the hunger strike they demand a permanent right to stay in Belgium, while the government speaks of "blackmail".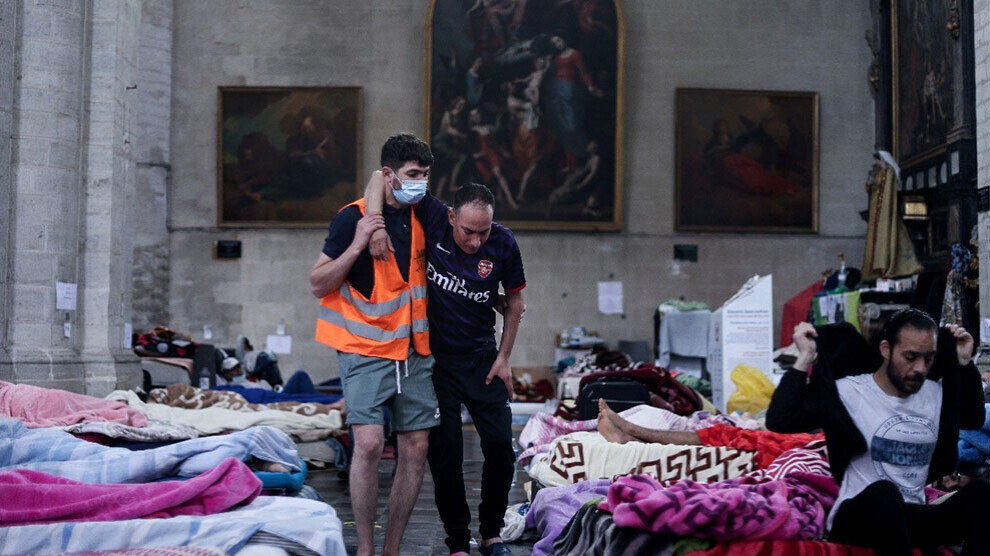 A total of 475 people "sans-papiers", people without papers, have been occupying a Brussels church and premises of the Free University of Brussels (ULB) for more than a month. Almost half of them have been on hunger strike for 43 days. They are demanding a permanent right to stay in Belgium. But their situation is becoming increasingly critical. Many of the hunger strikers are in increasingly poor condition, say medical volunteers on the ground. Some of them have begun to mutilate themselves. Among other things, at least four have sewn their lips shut. There have also been several suicide attempts. Nevertheless, Sammy Mahdi (CD&V), Secretary of State for Asylum and Immigration, is not backing down, saying that the state should not allow itself to be blackmailed.
Stranded by the pandemic
The refugees who have been occupying the Église du Béguinage church in the center of Brussels, as well as premises of the ULB and the Mensa (VUB) since May 23, are mostly from the Maghreb, but also from Pakistan, Afghanistan and Nepal. They have been living illegally in Belgium for many years, some even more than a decade, and are considered the "stranded of the pandemic." They kept their heads above water with low-wage jobs, fueling Belgium's parallel economy in construction, restaurants or factories. With the pandemic, their income fell away. And without papers, they are denied health care and many other services.
Recognition according to policy a favor, not a right
Migrant groups and aid organizations are outraged. They join the demand of the hunger strikers for a "collective legalization". This is because the sans-papiers fear immediate deportation if they apply individually, and not without good reason. The federal government has recently said that regularization, i.e. the official recognition of people without papers, is an exceptional procedure. It is a favor and not a right. Demands from the Green Party to at least give in on humanitarian grounds have been rebuffed by State Secretary Sammy Mahdi, as have appeals from the university administration and civil society to find a solution. They could not be accepted. According to estimates, there are about 150,000 illegal residents in Belgium. If 200 hunger strikers were given the right to stay, others would very quickly follow suit. And that would not work.
Solidarity visit from leftists from Turkey
On Saturday, members of the Turkey-based civic organization "Halkevleri" (People's Houses) and activists of the Socialist Women's Union (SKB) paid a solidarity visit to the hunger strikers in the church. They demand an immediate concession by the Brussels government before any deaths occur.