Permanent People's Tribunal on Turkey discussed at Westminster
The event, hosted by Lord Hylton is now available on Vimeo.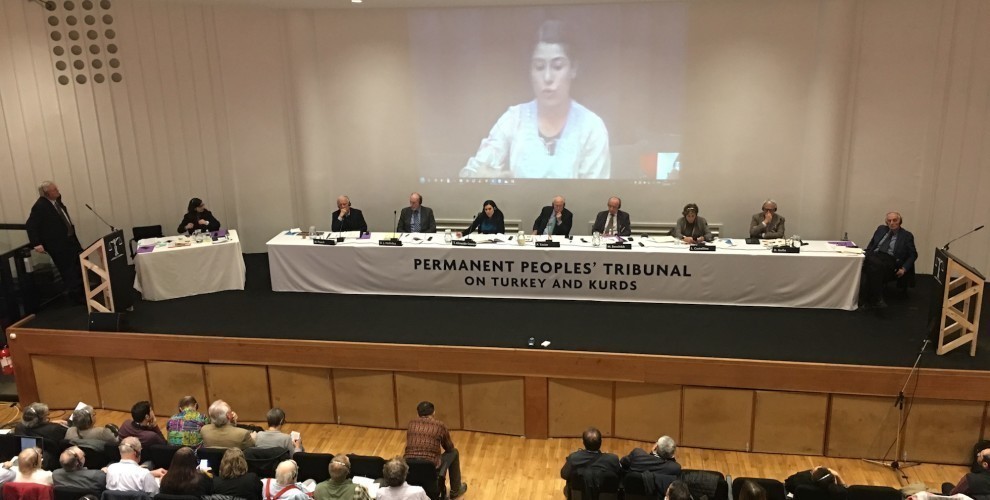 The Verdict of the Permanent People's Tribunal on Turkey and Kurds was presented during a public forum at The Houses of Parliament in Westminster, organised by Peace in Kurdistan, Kurdish People's Assembly in Britain, Roj Women Assembly, Freedom for Ocalan Campaign, UK, Campaign Against Criminalising Communities (CAMPACC).
The event was filmed and is now available to watch in full on Vimeo Channel here:  https://vimeo.com/281772955
This verdict (http://tribunal-turkey-kurds.org/index.php/the-verdict/) represents a significant challenge to international law institutions and other international organisations and their failure to address wide scale and egregious human rights violations against the Kurdish People.
The People's verdict on the untold war perpetrated by the Turkish State against the Kurds was presented by the distinguished panel in the very heart of the British Establishment at Westminster and commended to the wider public.
It was hosted by Lord Hylton and chaired by Dr Thomas Jeffrey Miley lecturer of political sociology at the University of Cambridge and the speakers included: Gianni Tognoni Secretary General of the Permanent Peoples' Tribunal; Dr Radha D'Souza Reader in law at Westminster University; Professor Bill Bowring, Director LLM/MA Human Rights, Birkbeck, University of London; Margaret Owen O.B.E, barrister; Tony Simpson, Bertrand Russell Foundation, Editor of Spokesman; Dr Les Levidow, Campaign Against Criminalising Communities (CAMPACC); Clare Baker, UNITE International Officer; Steve Sweeney, journalist; Julie Ward MEP.
The Tribunal's report was first released at the European Parliament in Brussels on 24 May, where UK MEP Julie Ward said it showed Erdogan waging a war "against every aspect of Kurdish culture." Phillip Texier, Tribunal president, honorary judge at the Court of Cassation of France, who has also served on the UNHCR, said that the "key cause" of the conflict between Turkey and the Kurds is "the denial to let the Kurdish people have their self-determination right exercised."
Very significantly the Tribunal found that the Kurdish struggle for human rights is not a "terrorist" issue as Erdogan claims, but rather a "non-international armed conflict ruled by international humanitarian law" and thus should not be subject to anti-terrorism legislation.