Police closes off roads against people mobilizing in Amed
The people of Amed have taken to the streets again on the third day of protests against the usurpation of municipalities. Regime forces closed off all roads leading to the municipality building with barricades and water cannons.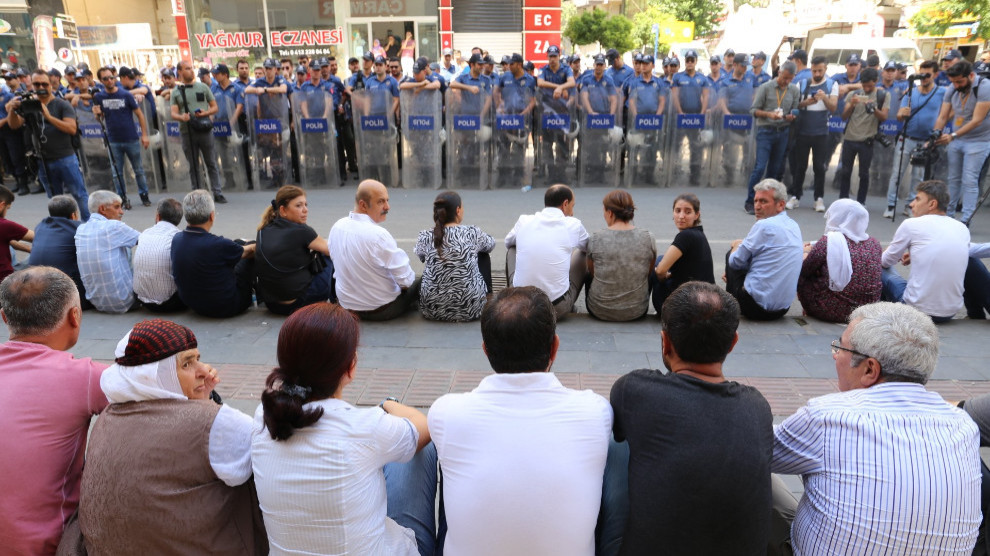 Before the HDP's press briefing against the usurpation of the Amed, Mardin and Van municipalities, the Diyarbakir Metropolitan Municipality building in the Yenisehir district was surrounded by the police again today.
The Elazig avenue and all side roads were closed off by police barricades and water cannons were placed by all strets. Traffic was cut off, and all pedestrians are stopped and checked for IDs.
Traffic is diverted to the Hintli Baba avenue. There are long queues of cars due to the restrictions in traffic.
HDP MPs and co-mayors are to make a statement in front of the municipality building. HDP MPs Necdet Ipekyuz, Meral Danis Bestas, Feleknas Uca, Nusrettin Macin, Saliha Aydeniz, Remziye Tosun and Kemal Pekoz as well as Amed Mayor Selcuk Mizrakli are present.
The crowds are gathering on the Lise avenue, chanting "oppression won't deter us", "rights and justice will come with HDP".
The police surrounded the people and the MPs, who then started a sit-in.
The people and the MPs chanted and clapped to show their protest. A press statement is scheduled for 13.00 local time.
Protests continued throughout Tuesday in Amed, and regime forces carried out constant attacks throughout the day. The governorate had issued a ban against all protests, but the people took to the streets in the morning and continued protests in homes after 20.00, by banging on pots and pans at their windows and balconies.