At least 150 journalists, politicians, artists, lawyers taken into custody by police
Many people, including journalists, politicians, lawyers and artists, were detained in a police political operation carried out in various cities.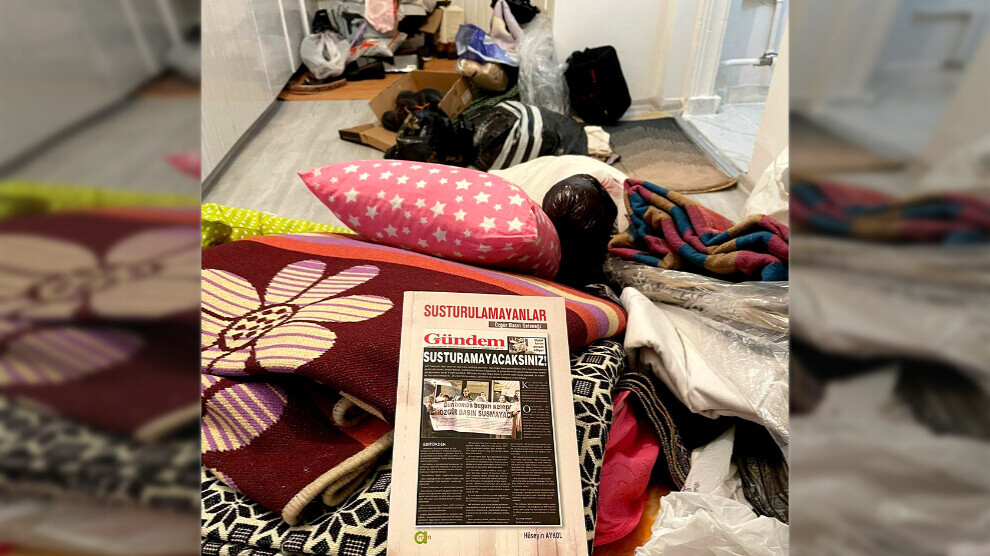 In the new police political operation, apparently based in Amed, many houses were raided in various cities.
During the searches of the houses, the police confiscated some books and digital materials. Among those raided and taken into custody were Mesopotamia Agency (MA) editor Abdurrahman Gök, MA reporter Ahmet Kanbal, Yeni Yaşam Newspaper Editor-in-Chief Osman Akın, Xwebûn Owner Kadri Esen; Lawyers Association for Freedom (ÖHD) Amed Branch Co-chair lawyer Halise Dakalı, lawyers Özüm Vurgun, Bünyamin Şeker, Berdan Acun, Pirozhan Karali, press advisor to Democratic Regions Party (DBP) co-chair Saliha Aydeniz, Sezen Mercan, Yavuz Akkuzu from Amed City Theater, Özcan Ateş and Elvan Koçer Yıldırım.
Mezopotamya Agency (MA) owner Ferhat Çelik, on the other hand, could not be detained because he was not at the address raided. Searches were continuing at many addresses.
Peoples' Democratic Party (HDP) deputy co-chair Tayyip Temel said: "On the eve of the election, he [Erdogan] again clung to detention operations for fear of losing power. In the morning, dozens of our friends, including party members, journalists, artists and lawyers, were detained in Amed...You will not be able to avoid losing!"
Özdemir: At least 150 people taken into custody
Diyarbakir Bar Association Deputy Chair Mehdi Özdemir said that approximately 150 people were detained by order of the Chief Public Prosecutor's Office.
Özdemir said, "The operation is still continuing. Detentions continue. Searches continue in the offices of many of our lawyer friends. No reason has been given so far. This is an operation aimed at different  groups. There are artists, politicians, civil society representatives and lawyers among the arrested." 
ÖHD: We will not remain silent
The Association of Lawyers for Freedom (ÖHD) said on its social media account that a large number of journalists, artists, politicians and citizens were detained in Amed, Batman and Urfa.
The ÖHD wrote: "As part of an investigation conducted in Diyarbakır this morning, many of our members' houses were raided and our members detained. Searches continue in our association building.
We do not remain silent against the political operations carried out against our association and our members during the election process! We have learned that journalists, artists, politicians and citizens from Urfa province have also been detained. Defense will not be silent! We will stand by our members, colleagues and clients!"