Police take mothers of prisoners and journalists into custody
The police attacked the Justice Vigil organised by the relatives of the prisoners, beat MA journalist Doğan Kaynak and detained many people, including ETHA journalist Elif Bayburt.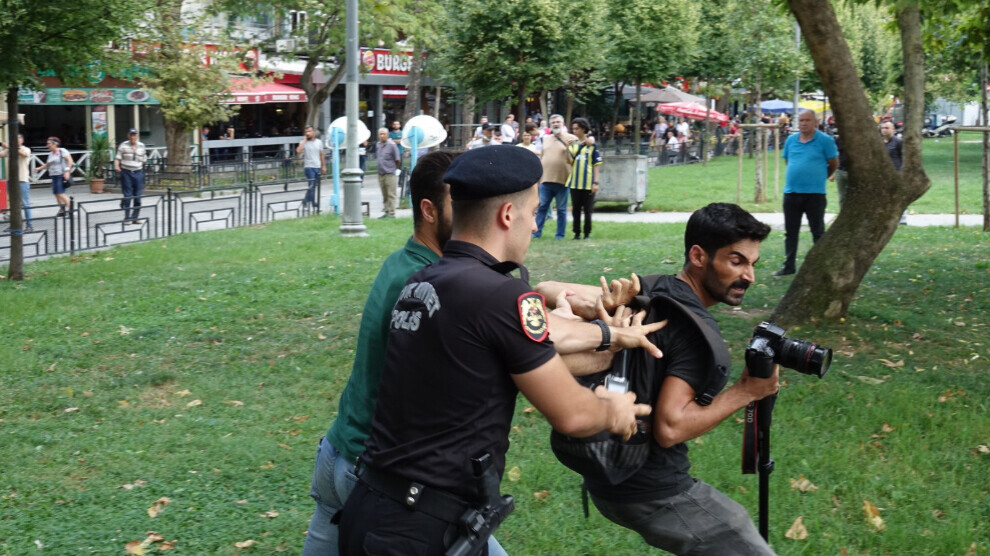 The relatives of ill prisoners and prisoners who have not been released despite having served their tariff, gathered in Istanbul Kartal Square to hold the Justice Vigil number 24.
Peoples' Democratic Party (HDP) Istanbul MP Ali Kenanoğlu supported the families' protest together with a large crowd.
Kartal Square, where the vigil was to take place, was besieged by the police. The relatives of the prisoners were surrounded by the police.
The police, citing the ban decision of the district governor's office, stated that they would not allow a statement to be made. Police officers used violence against the journalists who were covering the event. They were prevented from taking pictures and removed from the area.
In the meantime, Aktif News Agency (ETHA) reporter Elif Bayburt, who was trying to record a video, was battered and taken into custody in reverse handcuffs. Bayburt shouted "Free press cannot be silenced" while he was taken away.
The police also mistreated Mezopotamya Agency (MA) journalist Doğan Kaynak. He was beaten and pushed away from the area by various police officers.
It was learned that nearly 20 people, including Fince Akman, Cemile Çiftçi, Cemile Karakaş, Kumri Akgül and HDP Kartal Co-chair Aygül Sincar, were battered and detained. Those detained were taken to the Kartal Police Department.
The people around immediately protested the arrests. The police threatened to detain more protesters.
HDP Istanbul MP Ali Kenanoğlu said: "The press statements of the mothers in Kartal Square were blocked and the mothers were detained. We condemn this attitude. The mothers will not give up. Prisons have turned into torture and death houses."