Police tried to prevent HDP deputies from handing out leaflets
HDP lawmakers met in Istiklal Street despite being surrounded and harassed by police to hand out leaflets to call for participation in congress to be held today.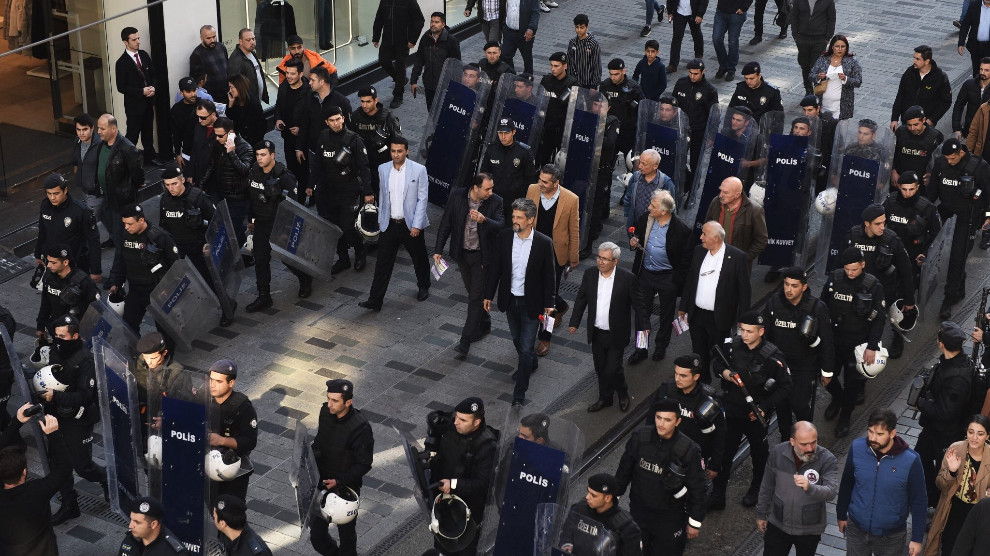 HDP deputies who attended the 762th meeting of Saturday Mothers, called for participation in the 3rd Ordinary Congress which will be held tomorrow at the Küçükçekmece Yahya Kemal Beyatlı Show Center.
The deputies started to hand out e leaflets along Istiklal Street but were stopped by the police. They were then surrounded by police and reacted to this abuse. The deputies were surrounded by police, shields up and journalists who took pictures were attacked by the officers.
HDP deputies Garo Paylan, Imam Tascier, Zeynel Ozen, Erol Katircioglu and Ali Kenanoglu, as well as many HDP members and human rights defenders, joined the leaflet handout.
Addressing the public surrounded by police, HDP Istanbul deputy Zeynel Ozen said: "This is an indication of how much we are on the right. The police is even trying to prevent our party from calling people to join the congress."
KENANOĞLU: THEY WILL RESPOND ABOUT THIS
HDP Deputy Ali Kenanoğlu said: "Let the whole world see this. These practices show the level of democracy, peace and freedom in this country. We know that these days will pass. Today, those who makes this abuse will respond for it tomorrow."