Protest in Diyadin: No one can take away our will
In Diyadin, there were protests against the arrest of the mayor and the police blockade in the town hall. HDP vice president Saruhan Oluç said in Ankara: "The state's action is not only directed against the HDP, it is also deeply misogynistic."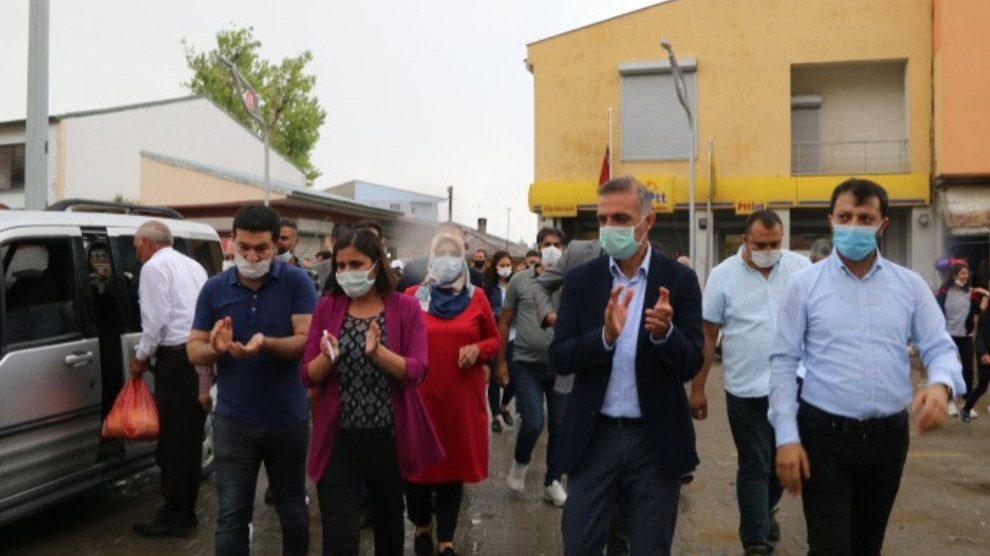 In Diyadin district of Ağrı province there have been protests against the arrest of Betül Yaşar (HDP). The co-mayor of the district was arrested in her apartment this morning. At the same time the HDP-governed city hall was broken into and searched. The building has been sealed off by security forces.
During the protest action, a group of people, including HDP MPs Abdullah Koç and Dilan Dirayet Taşdemir, marched from party headquarters to the city hall and wanted to make a statement. The police initially intervened, but after prolonged insistence the group was finally able to assert itself. Abdullah Koç said that a "coup policy" was taking place in Turkey. The MP demanded the immediate release of the mayor and a withdrawal of the security forces from the city hall.
His parliamentary group colleague Taşdemir referred to the conditions in other cities where HDP-run municipalities were usurped and said that the AKP government was concerned about "looting and theft". In the municipalities usurped by the government, public funds were divided among AKP supporters, said Dilan Dirayet Taşdemir and added: "The government should be aware that we will not bow to these fascist policies. It may confiscate our municipalities, but nobody can take away our will, our struggle and our search for freedom".
Saruhan Oluç: "Deeply misogynistic"
Meanwhile, HDP vice-chairman Saruhan Oluç has pointed out at a press conference in the parliament in Ankara that the arrest of the mayor and the occupation of the municipality in Diyadin are a preparation for a state-forced administration: "We still have eleven municipalities and we know that trustees will be appointed there as well. So why has it now targeted Diyadin municipality? Many things have been done in Diyadin recently that benefit the population and especially the women. Last week, a women's market was opened, and a women's advice centre is being set up. The state's actions are not only directed against the HDP, they are also deeply misogynistic. Every trustee appointed by the state first has Kurdish language signs removed. The second step is to block women's work."
So far, the Turkish Ministry of the Interior has appointed trustees to 46 of the 65 HDP-ruled municipalities, and numerous mayors are in prison.