Protest in front of the UN: Stop Erdogan who paves the way for ISIS!
FEDA Co-chair Demir Çelik warned that if Erdogan, who carries out the invasion attacks on Bashur after Rojava, is not stopped, thousands of Salafists he shields will engage in an irreversible genocide in Middle Eastern geography.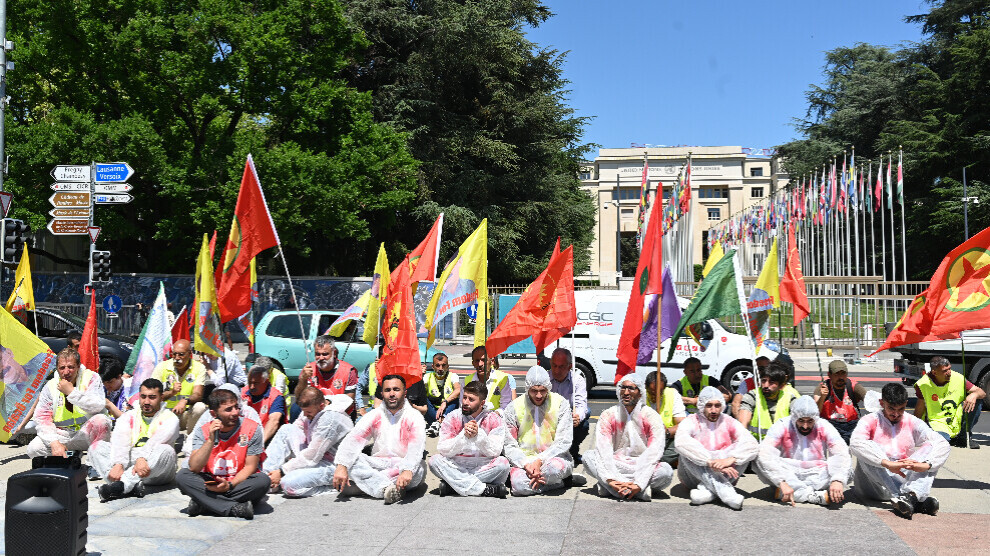 The sit-in protest in front of the United Nations (UN) in Geneva, Switzerland, staged every Wednesday for the freedom of Kurdish People's Leader Abdullah Öcalan on the basis of the "Dem dema azadiyê" (Time for Freedom) campaign, continued this week.
Co-chairs of the Democratic Alevi Federation (FEDA) and the Democratic Kurdish Community Center (DKTM) were also present at yesterday's action.

On the occasion of May Martyrs' Month, Erdal Atasoy, who took the first floor, remembered the martyrs of May, particularly Haki Karer, the Four, and İbrahim Kaypakkaya, and emphasized the importance of this month for the revolutionary struggle in Kurdistan and Turkey. Atasoy stated that they will support the guerilla resistance by remaining in action until the "Time for Freedom" campaign is successful.
Speaking after Atasoy, Demir Çelik stated the following:
"We, Alevis, who have suffered innumerable atrocities and massacres throughout history, have never committed oppression or massacres, and we would never do so. Because our faith and way of life promotes living and remaining alive and acknowledges the rights and existence of every single being on earth and in the sky. In the face of persecution and atrocities, we have always opposed to the greatest extent possible. Now, in our geography, in our country, there is a horrific invasion and massacre against humans, nature, and the rights of all bugs. As per our faith, we appeal to relevant authorities, governments, and conscience to put an end to this invasion attack as soon as possible. We call on everyone whose heart beats for good to stop fascist President Erdogan.
There are still peoples facing genocide in the twenty-first century. The Kurds, the most populous of these peoples and separated into four parts, are currently faced with genocide. The Kurdish people are being targeted in the same way that Russia is attacking and occupying Ukraine. Mesopotamia and Kurdistan are a garden of peoples and beliefs. As a result, we feel that mankind as a whole should safeguard this ancient geography. Because the neolithic agricultural revolution occurred in this ancient landscape, which hosted humanity's construction and creation activities for thousands of years.
Currently, the fascist leader Tayyip Erdogan is carrying out the same kind of war, occupation, destruction, and mass slaughter in our region, with the backing of the Barzanis. He wants to accomplish his neo-Ottomanist goal by using the KDP as a back-up and turning it into an opportunity to be a member of the same sect. It wishes to eradicate ancient peoples and religions like Kurds, Syriacs, Armenians, Yazidis, Kakayîs, and Alevis in Mesopotamia and Kurdistan.
Conscientious humanity cannot and should not remain silent in the face of this cultural carnage and genocide. Everyone should be aware that this invasion is the lifeblood of ISIS, enemies of humanity. Erdogan, the fascist leader, not only invaded Afrin and many other parts of Syria in front of the world to make way for ISIS, but he also intends to expand his occupation to South Kurdistan. If you do not see the true face of this occupying, fascist leader Erdogan, who is attempting to make a false peace between Russia and Ukraine, and do not stop it as soon as possible, there will be massacres and genocides in the Middle East geography with thousands of Salafists under his auspices. As a result, we urge everyone to be cautious of these inhuman and barbaric war-mongers and to fight together for democracy..."
After the speeches, the activists turned their backs on the UN and continued their action for a long time with slogans against the UN's silence.
Kurds have been expressing their demand for Abdullah Öcalan's freedom at the same location every Wednesday since January 25, 2021, while drawing attention to the Turkish state's invasion attacks.