Protesting German-Turkish weapons alliance considered crime
Germany is racing Turkey in punishments and bans. Two anti-war activists protesting Rheinmetall for taking on the manufacture of panzer tanks for the Erdogan regime have been fined 15.000 Euros each. The activists are refusing to pay the the fine.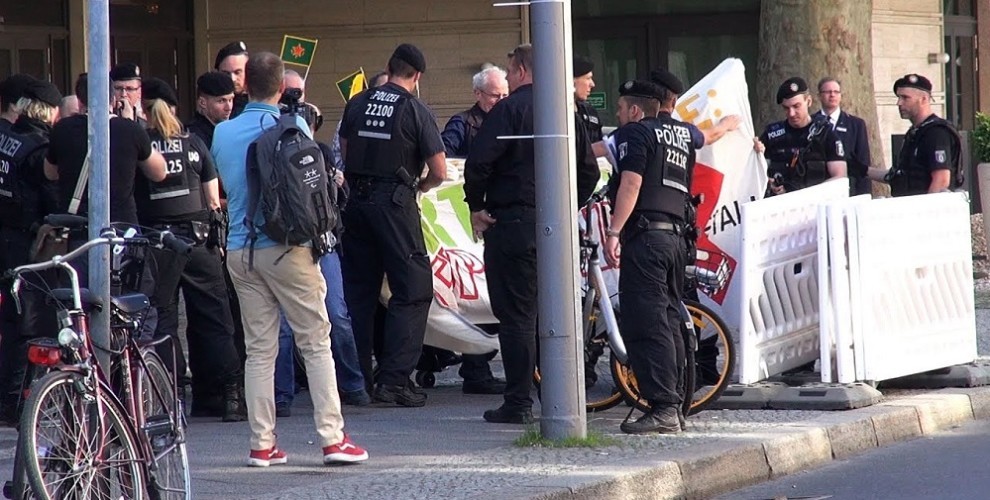 After the end of World War II and the official defeat of Hitler's fascism, May 8 was declared Victory over Fascism Day. Every year on May 8, Germany's social movements and anti-armament groups gather and hold demonstrations. Last year's protests had a focus on Rheinmetall, the biggest weapons provider for the Turkish state during the invasion of Afrin.
One protest was held during the meeting Rheinmetall had in the Maritim Hotel in Berlin with the company's stakeholders. A banner that read "German panzers out of Kurdistan" was put up and the German state's collaboration with the Erdogan regime was condemned with a large group of activists, who marched to the hotel holding YPG/YPJ flags.
Almost a year after the protest, two anti-war activists who held up a banner that read "May 8, 1945 - Yesterday like today, the war starts here" by the main gate of the hotel during the stakeholder meeting were fined 15.000 Euros each. Rheinmetall claimed that the banner caused delays in the meeting, which resulted in material damages for the company. Unlike the "damages" Rheinmetall suffered, the police had actually attacked the protest and battered the activists, taking down the banner by force.
CALL FOR SOLIDARITY BEFORE THE HEARING
The two activists from Frankfurt had announced that they won't pay the fine and took the matter to court. The first hearing of the case will be held on March 18 at 09:15 in the Berlin Regional Court. The Interventionist Left (Interventionistische Linke) called on all anti-war activists for solidarity before the hearing.
Anti-war activists, proponents for peace and human rights defenders are called to gather at the court, and the IL said: "We do not fear the German state's fines. We will continue to protest Rheinmetall, manufacturer of weapons for the dictatorial regimes of Turkey and Saudi Arabia." The next protest against Rheinmetall will be held on May 28.
Rheinmetall, the focus of Germany's anti-armament movement, has been manufacturing tanks in a joint venture with the Erdogan regime, with approval from the Federal German Government. Erdogan himself received executives from Rheinmetall in his palace, and the Turkish army's tanks had been modernized by the weapons giant before the invasion of Afrin. The company's Leopard 2 tanks had been used in many crimes, trampling international law.