Protests continue in many cities of Iran and East Kurdistan for Jina Amini
Protests continued in many cities of Iran and East Kurdistan for the young Kurdish woman Jina Amini, who was murdered in custody by the Morality Police in Tehran.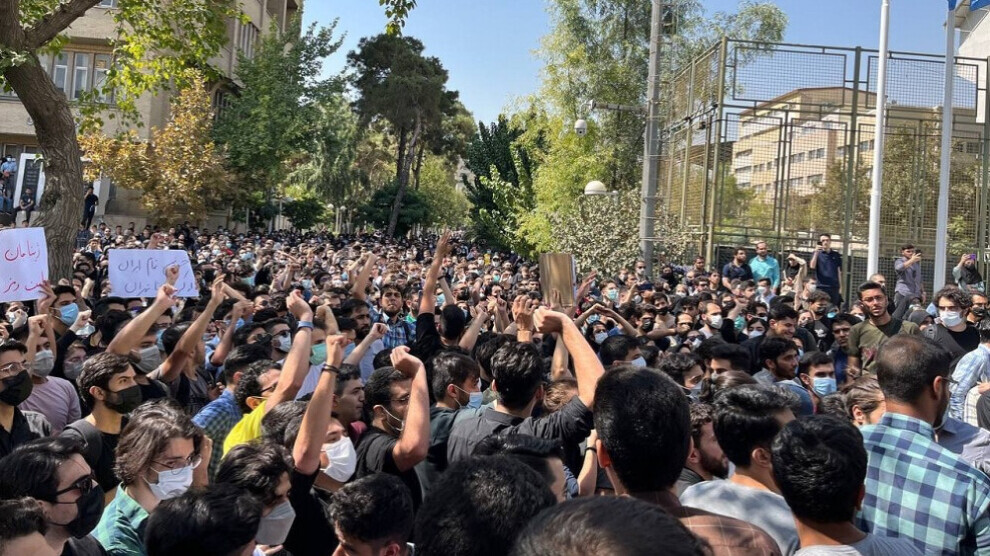 The Morality Police of the Iranian state had detained Jina Amini at the exit of the subway in the capital Tehran on the evening of 13 September. She was taken to hospital with serious injuries as a result of torture.
Amini was buried in the Ayçi Cemetery in Seqiz, East Kurdistan. Protests started right after the burial in the cities of Seqiz and Sine on Sunday and spread to other cities in East Kurdistan and Iran.
Protests took place in many universities. Hundreds of people marched in central Tehran on Monday evening, chanting anti-government slogans, according to Fars news agency. Some women removed their headscarves in protest.
Police detained many protesters and attacked them with batons and tear gas. In the capital, students also protested at many universities, Terhan and Şahid Beheşti among them.
According to the Tasnim news agency, a similar protest took place in the north-eastern city of Mashed.
The young Kurdish woman died after falling into a coma. Her family and activists consider this death to be suspicious and caused by torture.
Tehran police claim that there was no physical contact between the police and Jina Amini (Mahsa Amini).
On the day of Amini's death, state television broadcast a short image from the surveillance camera.
It is stated in the footage that Amini fell on the spot after an argument with the police.
On Monday, Amini's father, Amjad Amini, told Fars agency that the video was cut and his daughter was transferred to the hospital too late.
Interior Minister Ahmed Vahidi claimed that Jinda Amini had "previous health problems" and "had brain surgery when she was five years old".
Father Amjad Emini denied Minister Vahidi, stating that his daughter was "completely healthy". The young woman was attacked by the Morality Police while visiting Tehran with her mother.
The Iranian Morality Police have come under criticism in recent months, with many violent attacks against women.
Behind Amini's murder, many filmmakers, artists, athletes, politicians and religious people protested on social networks. The women protested over the images they took by cutting their hair.
The European Union and France condemned Amini's death and demanded a transparent investigation.