PYD's Muslim evaluates 2018 for North and East Syria
Salih Muslim, Head of Foreign Relations for the PYD evaluated the diplomatic efforts of 2018 in North and East Syria and said, the New Year's diplomacy will be conducted based on resolving Syrian crisis and the liberation of Afrin.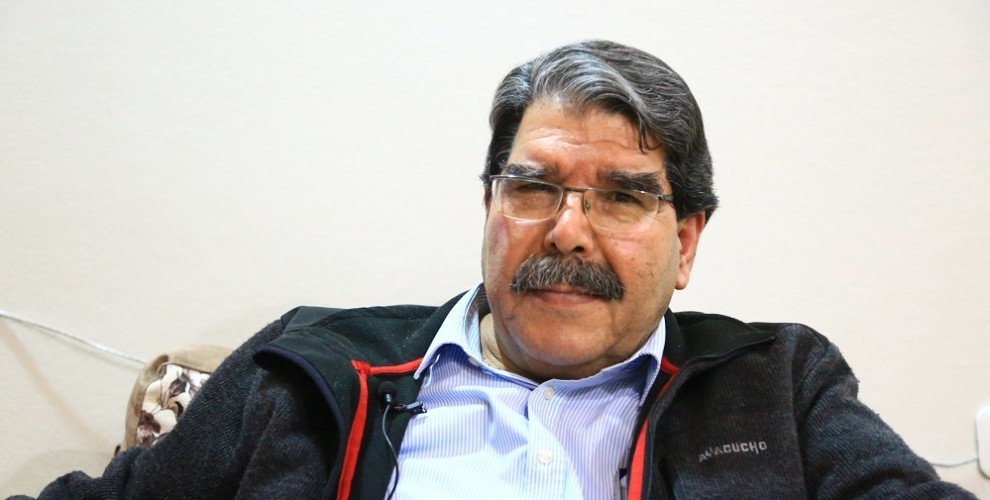 In an interview with the ANF, Salih Muslim, Head of Foreign Relations for the Democratic Union Party (PYD) evaluated the positive and negative sides of diplomatic efforts in 2018 in North and East Syria. Muslim stated that they do not consider their activities successful since they were not able to stop the occupation of Afrin through diplomacy, adding that the New Year's diplomacy will be conducted based on resolving Syrian crisis and the liberation of Afrin.
Our diplomacy was inadequate
"We cannot say that we conducted an adequate diplomacy for Afrin, which is a matter of self-criticism. If we had been able to lead a productive political and diplomatic campaign, if we had been truly prepared, maybe the situation would have been different," said Muslim. He noted that they had warned the whole world about Afrin but this was insufficient.
Preparation for Afrin
Muslim noted that they had accomplished a relatively effective experience in diplomacy comparing to previous years. "As a result, states like France, the United States, Jordan and many others insist that we be present on the negotiation table for Syria's future. We had shortcomings in 2018, yet there were many positive subjects as well. The situation in Afrin is a major concern for us, our efforts in regards with Afrin are ongoing. The displaced people of Afrin, living under dire circumstances in IDP camps, are waiting for their homeland's liberation, therefore our efforts for the return of Afrin people will continue," added Muslim.
Efforts for a solution
Muslim underlined that they had met with French, British and other states' officials during the year, and the negotiations with the Syrian regime possessed equal importance, but significant outcomes were yet to be accomplished. "We talked with the Syrian regime in 2018, but we could not reach a result. We showed to the world that we are open to dialogue, and if a solution is not attained it is not our fault. We have developed our plan and project, and we are ready for negotiations," said Muslim.
Syria's unity
Muslim reminded of the fact that they have been excluded from the talks in Geneva, Astana and Sochi, "Turkish state has specifically obstructed our participation in those talks. They repeatedly say there is a separatist movement in North Syria, yet with our Democratic Self-Administration project, we proved to the world that we work for a united Syria," added Muslim.
Diplomacy with regional states
Muslim mentioned that they continued their meetings with Arab states during 2018 and have established effective ties, specifically with Egypt. "We have a strong relationship with Egypt but some other Arab states have common interests with Turkey, and others with the Syrian regime. This tells of the further work which is required on this field," said Muslim.
Internal dialogue
Salih Muslim added that their efforts continue to develop dialogue and relations with all the parties in Rojava. He said there is already a good level of relationship with the local parties in Rojava, yet the ones outside are acting in an irreconcilable contrast.  
"Recently we have doubled our efforts for dialogue with all parties in Rojava. There are parties that recognize our system, with whom we met on December 15 and issued a joint declaration.
We agreed to meet every month to declare a joint stance. Yet with other political parties who are working with Turkey and do not recognize our system we are looking for different methods in order to have talks with them. So far there is no positive response, yet we think we should improve our dialogue with them as well."
National unity
Muslim stressed that one of their fundamental goals is 'national unity', therefore talks with other political parties and circles in Kurdistan are ongoing.
"We hope there will be a solution and we will see a better position. We are prepared to do our part. Our goal indeed is to realize the national congress with the participation of all," said Muslim.
Afrin's liberation
The PYD's Head of Foreign Relations Salih Muslim stated that their priority will be to liberate Afrin and to eliminate Turkey's threats, "Our utmost hope is to have the people of Afrin returned to their homeland, and all of our efforts will be focused on this. We are trying to represent the resistance of our people on the political and diplomatic field. Geneva Talks are ahead of us, Turkey is upset because of that. We hope there will be a chance to sit at tale with free people of Syria in order to create a solution for a better Syria in future," added Muslim.