Rallies for Shengal across Europe
In Stockholm, London, Toulouse and the Hague rallies have taken place against the femicide and genocide perpetrated by the ISIS against Yazidis six years ago in Shengal. The Yazidis only received help from the PKK and from YPG/YPJ.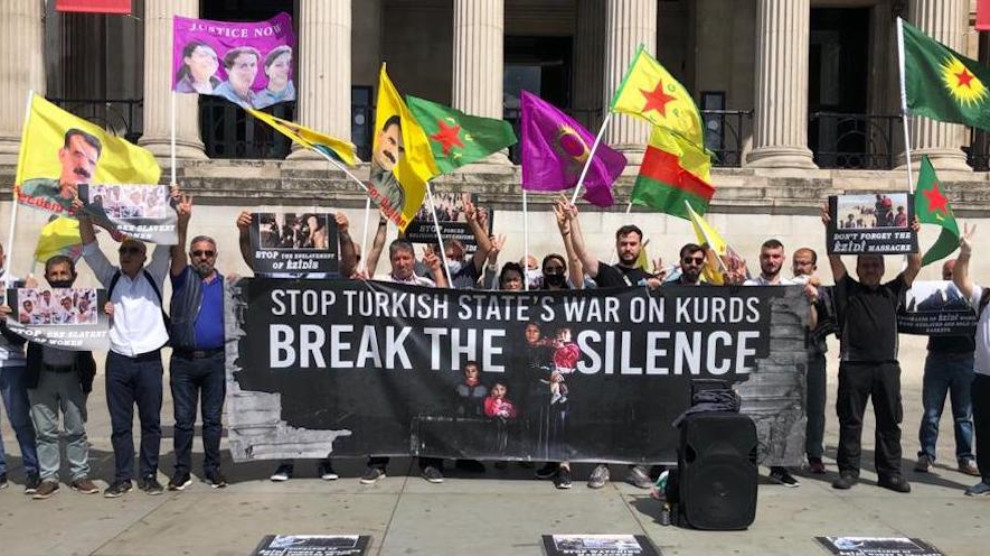 On the anniversary of the massacre of 3 August 2014 committed by the ISIS against the Yazidis in Shengal, rallies and vigils have been held in many places in Europe. It is estimated that 10,000 people were killed six years ago. More than 7,000 women and children were kidnapped, more than 400,000 were displaced from their homes and other thousands are still missing.
Stockholm
At a rally promoted by Amara Women's Council on Sergelstorg in Stockholm, it was recalled that thousands of Yazidi women were murdered, raped and enslaved by the ISIS. An even greater massacre could only be prevented by the rapid reaction of the guerrillas and the YPG/YPJ. The genocide committed by the ISIS was also an explicit femicide and violence against women is always political, said the speakers.
London
A rally was held in Trafalgar Square in London, which was promoted by the People's Council of Britain and other Kurdish organisations. Mehmet Kardu said on behalf of the organisers: "Only the PKK came to the aid of the Yazidi people at that time. We will never forget that the KDP handed over the Yazidis to the ISIS."
Toulouse
A demonstration was staged in Toulouse in the south of France against the ISIS massacre and the continued attacks on Shengal. After the ISIS barbarism in 2014, 27 more attacks have been carried out by Turkey and the South Kurdistan's ruling party KDP. Most recently, 21 sites in the Shengal mountains were bombed by the Turkish Air Force on 15 June.
The Hague
A memorial rally for the victims of the ISIS genocide in Shengal was also held in the Hague. The demonstration began with a minute of silence to honor the memory of all victims of the Kurdistan freedom struggle.
The crowd protested against the ISIS gangs and chanted "Jin, Jiyan, Azadi" [Woman, Life, Freedom].