Rally in Rome condemns US decision against PKK leaders
The rally was organised to protest against the racist policies of the Italian government. Kurds launched an appeal to join the national rally to be held in Rome on 16 February to demand freedom for Ocalan.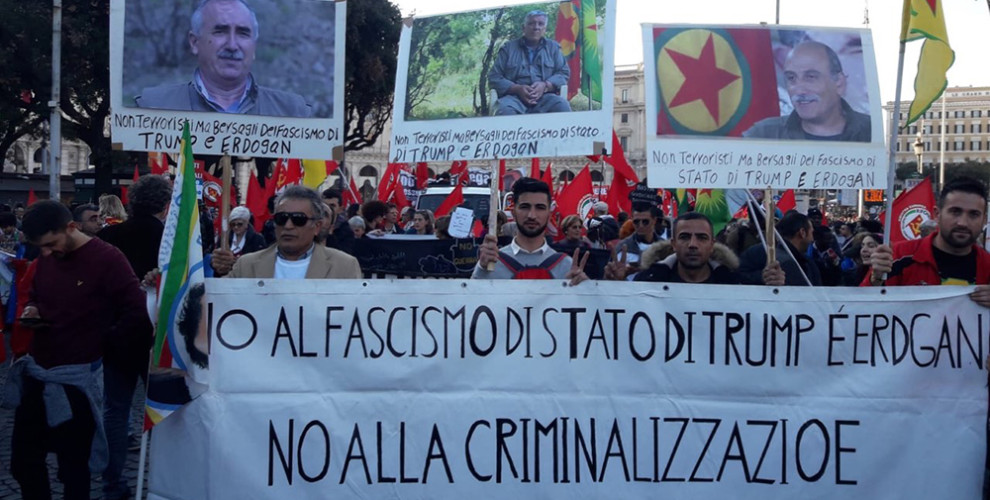 Kurdish people attended a rally in Rome attended by over 500 organisations and groups to protest against the racist policies carried out by the Italian government. 
The Kurdish bloc was very crowded and chanted slogan against the latest US decision and demand the freedom of Abdullah Ocalan. 
The rally, attended by over 40,000 people, also condemned the decision by the US to put a bounty on three PKK executives.
The U.S. Deputy Assistant Secretary of State for European and Eurasian Affairs announced, during a visit to Ankara, that the U.S. Department of State's Rewards for Justice program is targeting three senior members of the Kurdistan Worker's Party (PKK), namely Murat Karayilan, Cemil Bayik and Duran Kalkan.
This decision was firmly rejected by Kurds all over Europe. The Kurdistan Information Office in Italy (UIKI), in an appeal published for Saturday's rally said: "Cleary the decision by the US is a political decision aimed at offering Turkey more room to maneuver when it comes to carry out atrocities against the Kurdish people, often with NATO sophisticated weapons and intelligence".
Reminding that the three PKK executives are "politicians who have fought and fight against Turkish fascism, DAESH and Erdogan totalitarism", UIKI appealed to American defenders of democracy and peoples, to the President of the US, the US Congress and Senate, to "respect the political rights of the people of Kurdistan".
The appeal also underlined how "democratic forces in the Middle East were expecting for the PKK to be removed from the list of terrorist organisations in both the US and Europe. Yet, it appears that Erdogan could exercise such a strong pressure on governments so to convince them to maintain the PKK on the black list, thus allowing Turkey to carry on its dirty wars".
The rally also voiced concern for the situation of Kurdish People's Leader, Abdullah Ocalan, jailed under a regime of total isolation in the high security prison-island of Imrali since February 1999.
"Mr Ocalan - said the statement - had announced a peace process and reconciliation in March 2013, and this had made hopes grow and hostilities cease. However, Erdogan, has closed this process in June 2015, and has since pursed war policies hoping to turn this into a political gain".
The rally in Rome launched an appeal to all democratic forces to participate to the national march to be held in Rome on 16 February 2019, to call for Ocalan's long due freedom.