Raqqa Civil Council meets people in al-Akirshi village
Meeting the populatiois vital for the well functioning of the Autonomous Administration project.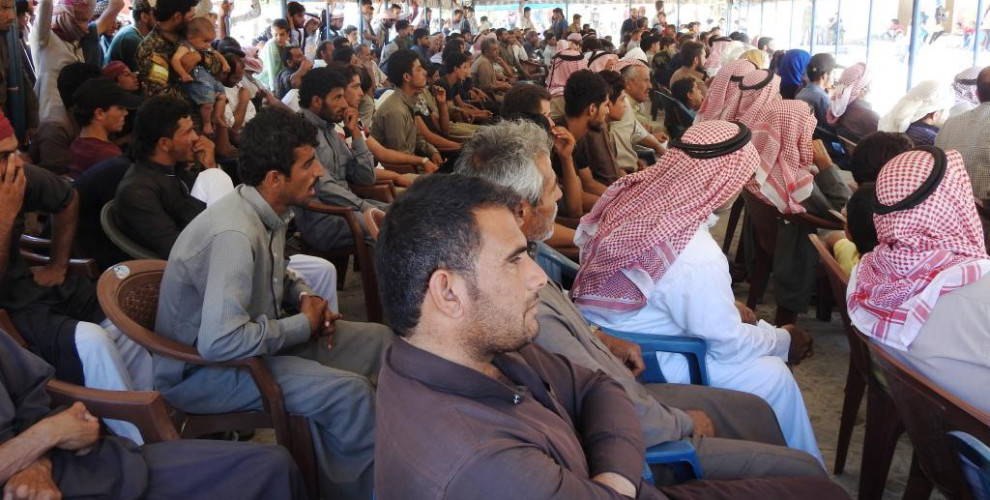 The Raqqa Civil Council held a meeting in the village of al-Akirshi to evaluate the current political process and to listen to the problems of the people.
The Council wanted to meet residents of the village to gather their opinion while at the same time to inform them on the latest developments in the region.
Together with members of the council, member of the Syrian Democratic Council (MSD), Ruqeya Elo, clan leaders and hundreds of village residents attended the meeting.
After a minute's silence, MSD member Elo spoke and said: "The process which followed the liberation of the city from the DAESH mercenaries is the most important and delicate phase. The region has become the stage of the third world war. However this war is different from the other wars in the world, and the beneficiaries of this conflict are both local and external forces".
Elo added: "The invading forces of the Turkish army want to destroy the Northern Syrian project which is promoting and fomenting dialogue through the Democratic Nation system."
Noting that the Syrian Democratic Council is open to dialogue with all parties, Elo also remarked that the peoples of Northern Syria are living in peace thanks to the struggle and sacrifice of their martyrs.
"Raqqa was liberated with the blood of the martyrs. - he said - We will not allow any force to pass through our land rich with the blood of the martyrs. We will continue on the path of the struggle of our martyrs".
After the speeches, villagers expressed their suggestions and requests for services and the work which needs to be done to address social problems.