#RiseUp4Rojava calls for demonstrations everywhere today
"This call is not simply a call for solidarity. This is a call for actions everywhere and on all levels," said the #RiseUp4Rojava campaign calling for everyone around the world to be on the streets today.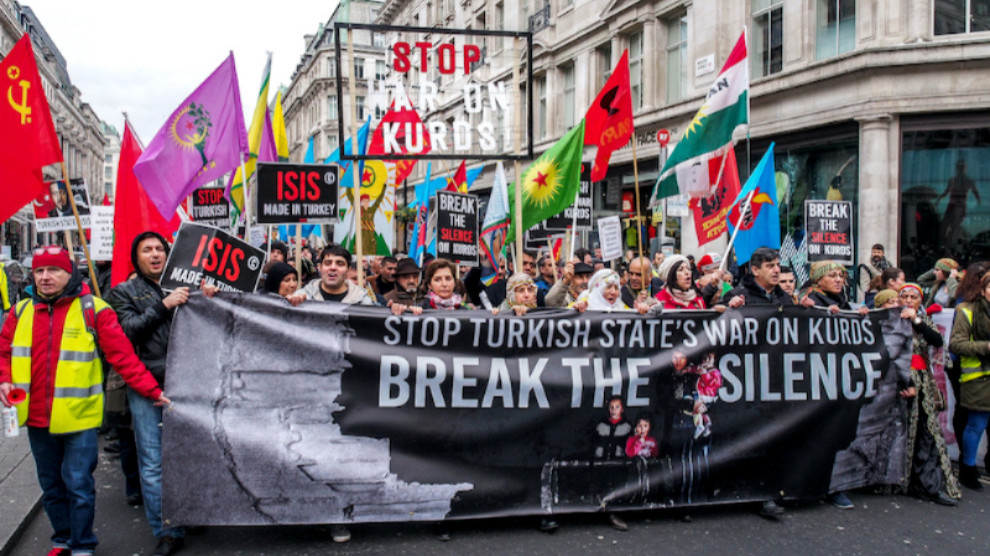 The internationalist campaign RiseUp4Rojava has called for demonstrations everywhere today in protest at the Turkish state's increasingly ongoing attacks which targeted South Kurdistan with a massive air campaign last night.
The appeal of the platform reads as follows:
"While the war and the attacks on Rojava and on Northern Syria by Turkey and its jihadist allies with the support of the imperialist forces of the world continue on a daily basis, and while the threat of another major offensive is increasing, the war in Northern and Southern Kurdistan/Iraq is in full progress.
Last night, the fascist Turkish state announced the operation "Claw-Eagle", and conducted mass bombings on Qendîl - the heart and brain of the Kurdish freedom movement in the Kurdish mountains - , on the self-governing refugee camp Mexmûr and on Şengal, which is predominantly populated by Yazidi people.
Now is the time for global resistance! The global resistance movement must recognize the seriousness of the current situation. Today, the time has come to deliver the final blow to Turkish fascism and to all its imperialist allies, being a crucial part of this war, and the attacks against the revolutionary and democratic forces of the world. The resistance movement throughout the world must also play its part in this. It is not the time to wait and watch. If we wait for the next attack on Rojava to become active, it will already be too late. The war is now, the war has already started, the war has never stopped. On the surface, a theatre about the armistice is performed, but the war continues without interruption in Northern Syria as well as in the other parts of Kurdistan, as we are witnessing with the big offensive in Southern Kurdistan right now!
It is not the time to sit at home and wait for the next big invasion, already now it is time to stand against this occupation war with all necessary means.
We are calling for EVERYONE around the world to be on the streets TODAY!
This call is not simply a call for solidarity. This is a call for actions everywhere and on all levels! It is important to see the defence of the revolution as more than a distant struggle. In the common resistance, we see the defence of our own hope, and we have recognised the revolution as our own revolution. Let's show creatively and diversely, but angrily and determinedly our internationalist solidarity with the Kurdish Freedom Movement and stand by the radically democratic-, social-ecological-, women's revolution in Kurdistan!
The revolution in the Middle East will win – fascism will be crushed.
Altogether Against Fascism!
Long live Internationalist Responsibility!"
Long live the Freedom Struggle!
Resistance is life!