Scottish activist: Listen to the Kurds
Scottish activist Sarah Glynn talked to ANF about her visit to the hunger strikers in Strasbourg.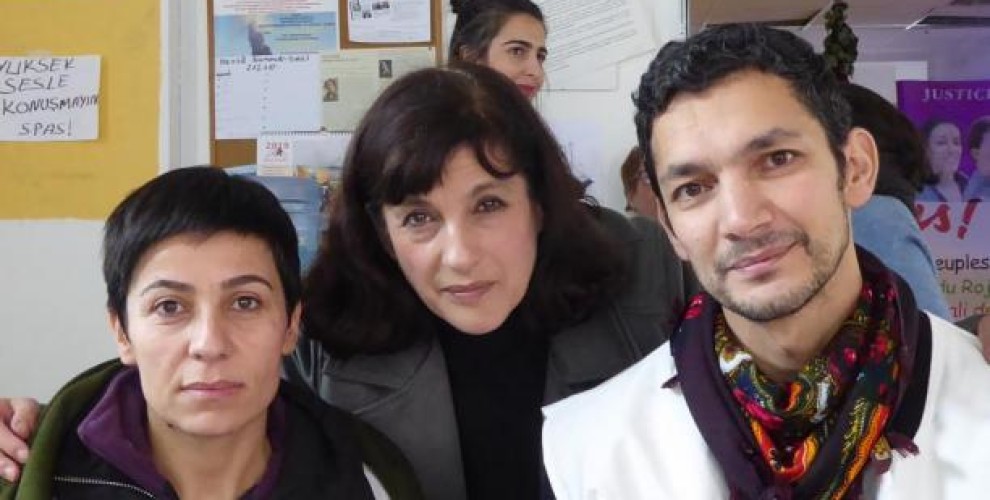 Sarah Glynn from Scottish Solidarity with Kurdistan and Fiona Napier from Aberdeen Trades Council have just returned to Scotland after visiting the hunger strikers in Strasbourg. 
Such was the impact of the visit on them that they immediately got to work in their environment to make sure solidarity with the hunger strikers increase. 
The 14 Kurdish activists have reached day 45 of their hunger strike in the French city. They are demanding the end to isolation against Abdullah Ocalan. 
ANF spoke with Sarah Glynn about her visit to Strasbourg and the work to be done to embrace hunger strikers and contribute their demands are met. 
Can you tell us about your visit to Strasbourg. How did you find the activists?
I  didn't know what to expect from people who had not eaten for 40 days, but I certainly didn't imagine they would be so positive, so smiling. When we asked, they did confess to problems – headaches, lack of concentration, difficulties sleeping – but they emphasised the strength of their morale, and this was very evident. I know this was helped by the constant flow of visitors, though that must also be tiring. It is both inspiring and distressing to see people with such commitment that they are prepared to put their lives on the line - especially when one is a friend
Why do you think there is relatively little attention paid by the European people to a hunger strike on their door step?
When it comes to the wider response to Kurdish politics, the problem, I think, is not lack of sympathy, but lack of knowledge. And because the Kurds are not on many people's radar, the media doesn't make much effort to cover Kurdish issues, and the neglect is reinforced. When people do learn what is going on, responses are generally very positive, but building interest is a slow process. If it weren't for this general ignorance/apathy activists might not have felt the need to resort to hunger strikes in the first place.
​​​​​​​What do you think to do now back in Scotland to raise awareness about this action?
Now we are home we are trying to do what we can to raise awareness of what is happening through the Scottish media and the trade unions, and to encourage people to put pressure on their elected representatives to speak up for the Kurds. We have written an open letter to the Scottish MEPs, and, when you contacted me, I was at a meeting of the Cross Party Group for Kurdistan in the Scottish Parliament, where I was able to report back on what we had seen. 
Our organisation, Scottish Solidarity with Kurdistan, has put up a list on our blog of suggested actions that supporters can take.
http://www.sskonline.org.uk