Solidarity actions for Rojava in European cities
Freiburg, Kiel, Bonn, Stuttgart, Saarlouis, Paris, Toulouse and Copenhagen have also protested against the Turkish invasion of northern Syria. The protests called for solidarity with Rojava and sanctions against Turkey.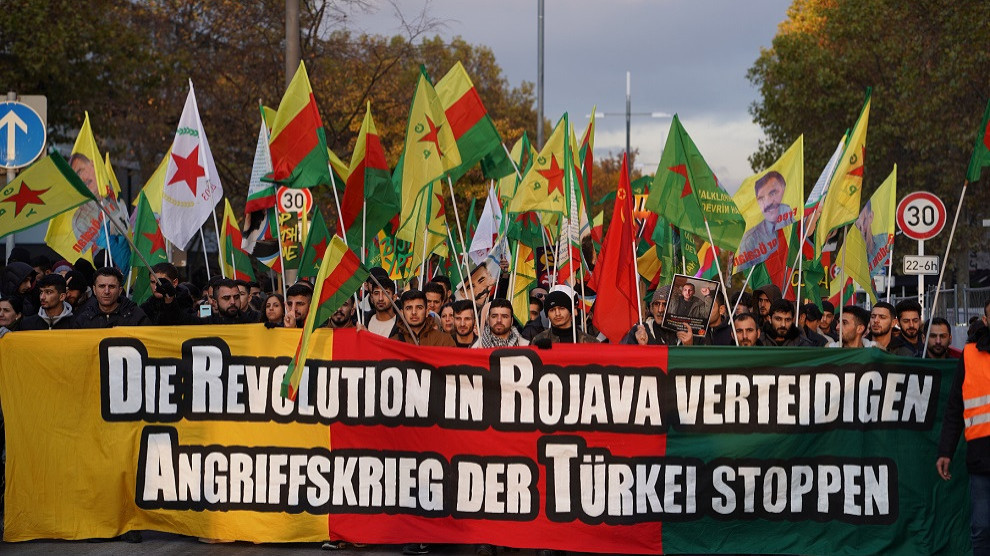 Once again there have been protests in numerous European cities against Turkey's war of invasion against Rojava. Demonstrations and rallies called for the immediate withdrawal of Turkish and Jihadist occupying forces and voiced solidarity with the grassroots democratic model of society in North and East Syria.
A demonstration was held in Freiburg from the Old Synagogue Square to the city centre, condemning the inaction of the international community in the face of the invasion, which is contrary to international law. Erdoğan must be put before a war crime tribunal, was demanded in a speech contribution.
A picture of the fallen internationalist Konstantin G. (Andok Cotkar) was presented at a colourful demonstration march in Kiel. The 24-year-old man from Kiel died in mid-October in a Turkish air raid on Serêkaniyê.
A rally took place on Münsterplatz in Bonn's city centre, at which solidarity with the resistance in Rojava was expressed with the flags of YPG/YPJ and TEV-DEM.
Another demonstration of the "Defend Rojava" alliance took place in Stuttgart. Banners and slogans emphasized Germany's participation in the war of aggression and expressed solidarity with Rojava. In a youth speech the participation of Germany in this war of aggression was discussed. A speech by internationalist women dealt with the significance of Rojava's women's revolution.
A demonstration in Saarlouis drew attention to the importance of Rojava for progressive movements worldwide. The police accompanied the demonstration with a large unit.
Protests also took place in Paris, Copenhagen and Toulouse.