Strasbourg rally against isolation commended the resistance
Demonstrations to protest the International Conspiracy which, 20 years ago, led to the abduction of Abdullah Öcalan and commend the hunger strike resistance are taking place in different cities.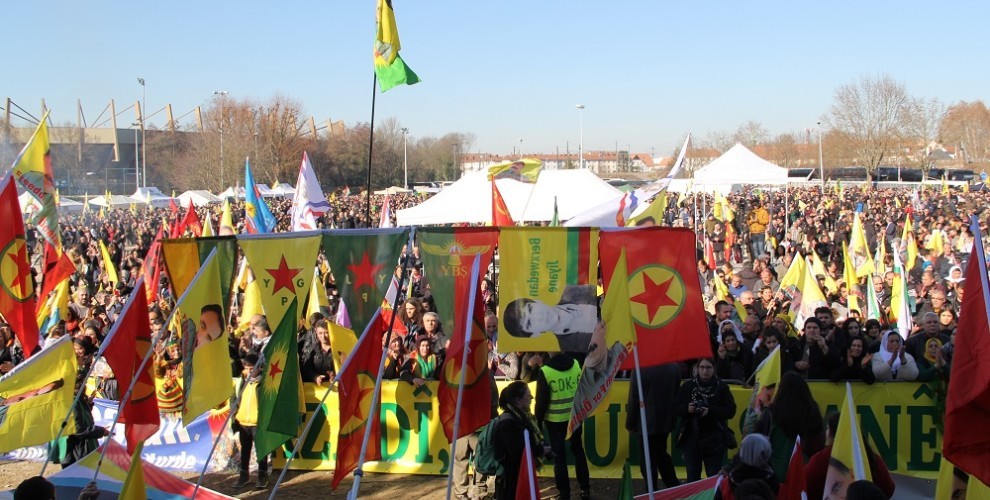 In Strasbourg, where 14 Kurdish activists are on hunger strike for 62 days, the long marches from Luxembourg, Mannheim and Basel ended with a rally in Parking des Vanneaux.
On the rally stage a banner saying "Let's break isolation, destroy fascism, liberate Kurdistan" was hanged together with another demanding the CPT and the Council of Europe to take action against isolation.
Tens of thousands of people joined the rally chanting slogans in support of freedom for Öcalan and Leyla Güven and the resistance by the hunger strikers.
Mustafa Tuzak, who has been on hunger strike for 35 days in Duisburg, Germany, also joined the rally.
Göksungur: Kurds will break isolation
The opening speech was delivered by KOCK-E co-chair Fatoş Göksungur. Recalling that the Kurdish people are in action today to break the isolation against Öcalan, Göksungur also saluted Leyla Güven and the hundreds of activists on hunger strike in Turkish and Kurdish prisons as well as in many European cities and in Toronto.
Göksungur said that the Kurdish people will break the isolation and destroy fascism.
KCK: Resistance everywhere
After Göksungur, a video message by KCK co-chair Cemil Bayık was screened.
Bayık emphasized that the isolation against Öcalan cannot be accepted and greeted Leyla Güven's hunger strike and the fast in prisons and many cities of Europe.
Noting that the international forces involved in the international conspiracy play a role in the isolation of Öcalan today, Bayık said: "The magnificent resistance of the Kurdish people will destroy isolation and liberate Öcalan and Kurdistan."
Bayık added: "We will never accept the isolation in Imralı" and said that the resistance should be organised all over the world and Kurds should reclaim the hunger strike. 
We will liberate Afrin
TEV-DEM executive Aldar Xelil spoke after Bayık.
Underlining the importance of the hunger strike resistance, Xelil said: "We believe that the resistance of the Kurdish people in many centers, especially in Rojava, will break the isolation against Serok (Leader) Apo. For 20 years we have been resisting with the Imrali spirit of resistance. We believe that as the resistance overcomes borders, we will earn more and we will break the isolation against our leader."
Condemning the attacks carried out by the Turkish state in Afrin and Rojava, Xelil said: "Our people know that we will liberate Afrin. We are getting stronger by the day. We salute Imrali from here and we say that we will establish a free Kurdistan with a free leader."