Suruç Families Initiative demands justice
"We will not stop seeking justice for Suruç until everyone who had a role in the massacre is judged and light is finally shed on the massacre."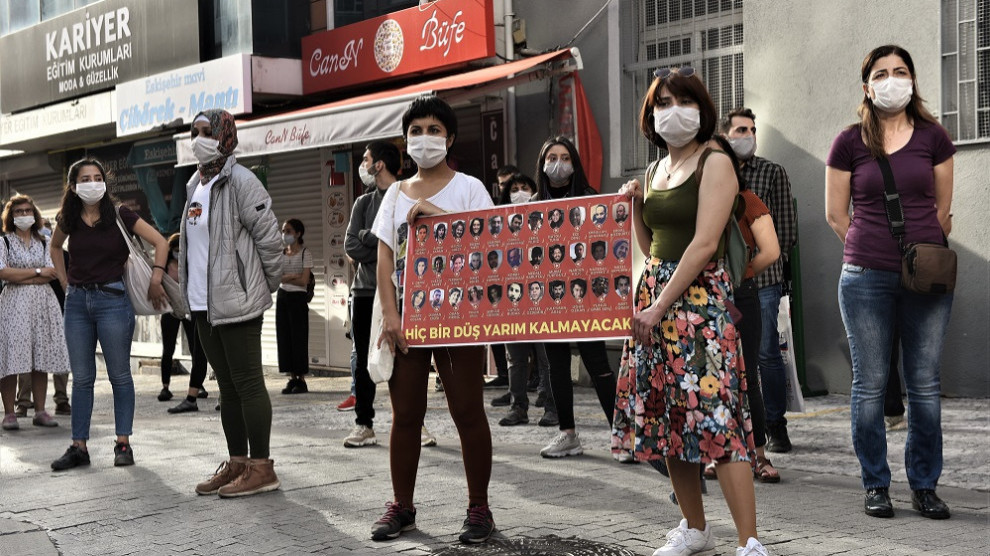 The Suruç Families Initiative members have not been able to hold press conference for two months because of the coronavirus pandemic. 
Eventually they came together on Wednesday, to remind that 58 months have passed since the Suruç Massacre and justice is yet to be done. The families gathered in Halitağa Street in Kadıköy. 
HDP Istanbul MPs Züleyha Gülüm, Dilşad Canbaz Kaya, ESP co-chair Özlem Gümüştaş, HDP Istanbul Provincial co-chair Elif Bulut, HDP Istanbul Women spokesperson Pınar Türk, SGDF co-chair Alev Özkiraz joined the action behind a banner saying "Our hearts are beating for Suruç".
HDP Istanbul MP Dilşad Canbaz stressed that they will continue the fight until justice is achieved.
Suruç survivor, Koray Türkay, read the statement on behalf of the Suruç Families Initiative and reminded what happened on the day of the massacre and noted that the survivors still bear the scares of that day on their bodies and in their memories.
On Wednesday the 14th hearing of the Suruç case was held in the Hilvan district of Urfa, said Türkay, adding that families could not attend because of the coronavirus emergency . 
Stressing that the families will not stop demanding justice, Türkay said: "For us, the real courtroom is Halitağa Avenue, where we have been demanding justice for 58 months. We will not stop seeking justice for Suruç until everyone who had a role in the massacre is judged and light is finally shed on the massacre."
BACKGROUND
On 20 July 2015, following the appeal by the Federation of Socialist Youth Associations (SGDF), 300 young people gathered at the Amara Cultural Center to hold a press conference prior to their departure for Kobanê.
The planned trip to Kobanê was meant to be an act of solidarity. The young people wanted to bring toys and humanitarian aid to the city destroyed by the ISIS. Then an ISIS member blew himself up killing 33 people and wounding dozens of others.