Swedish cities protested the invasion of Rojava by Turkey
In Sweden actions and protests continue to protest the Turkish state invasion attacks against Rojava, North and East Syria.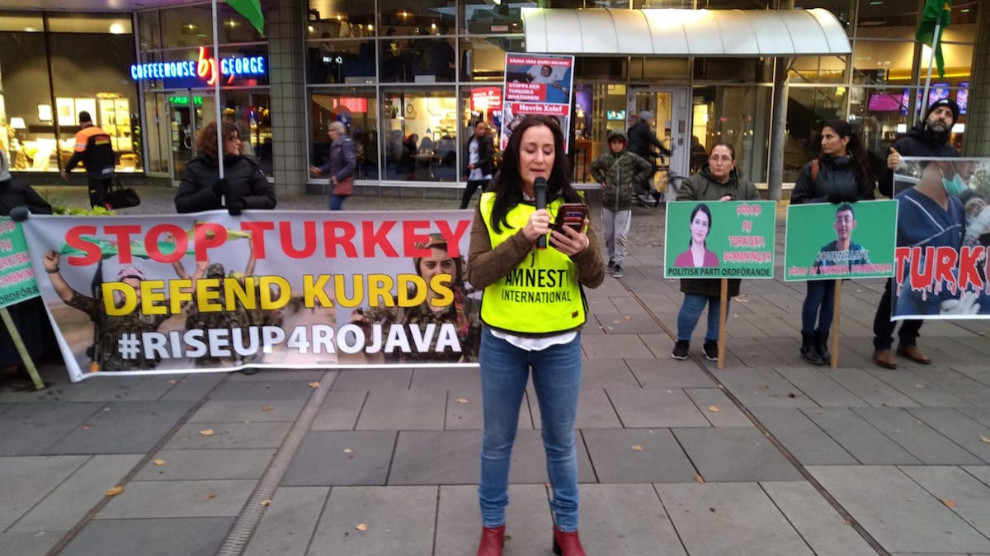 Kurds and their friends have taken the streets of many Swedish cities once again to protest the occupation of Rojava carried out by Turkey.
The protests called on the international community to take concrete steps in particular to establish a no-fly zone over North East Syria.
GAVLE
Kurds and their friends gathered in Storatorget carrying banners denouncing the occupation carried out by the Turkish state.
The action was promoted by the Democratic Kurdish Community Center. Speaking on behalf of Amnesty International Maria Paliki sai the Turkish state wants to change the demography of the region.
Paliki also denounced the crimes against humanity carried out by Turkey.
Left Party Municipal Councilor Jin Akgul Hajo said Erdogan has invaded Rojava to eliminate the system established by Kurdish and other minority peoples.
Reminding that the Rojava revolution is a women's revolution and that women are leading the establishment and defense of the system, Hajo said that the attack on Rojava was an attack on women and called on all women to defend Rojava.
UPPSALA
Kurds organised a demonstration in Stora Square in the city center of Uppsala on Tuesday and Wednesday evening.
Left Party Uppsala Region International Relations Officer Yekbun Alp addressed the crowd.
Alp demanded sanctions to be imposed on Turkey and the establishment of a no-fly zone over northern Syria.