Tale of two brothers on hunger strike in prison
Berxwedan and Dozdar Şimşek have joined the hunger strike resistance in prisons. Their parents called on everyone to play their part and urged the authorities to accept the hunger strikers' demands.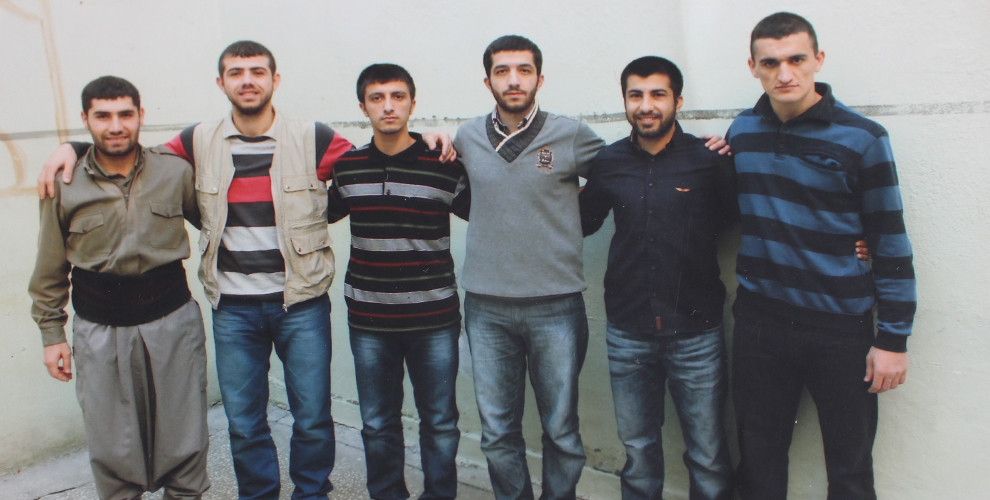 For the Şimşek family, who had settled in Adana 55 years ago from Mardin, the most difficult years of their lives were beginning.
Hasan Şimşek, who had been tortured in prisons for years, and his family, today continue their struggle for rights with their two children who are taking part in the hunger strike demanding the end of isolation.
Murat (but his Kurdish name is Berxwedan) Şimşek is on the 95th day of hunger strike.
Berxwedan, who was arrested following a raid on his house in 2011, was sentenced to 32 years even though there was nothing in his file. Berxwedan is one of the prisoners who made up the first group to join the hunger strike.
His father, Hasan Şimşek said: "First he was brought to Kürkçüler prison. He was later deported to Hatay and Şırnak prisons and finally to Rize Prison. We could not go to visit him for a while, but every week we speak on the phone with him. His morale is high and he says he is determined like all his friends to continue the hunger strike until isolation is lifted."
Suat (his name in the family is Dozdar) Şimşek is one years younger than Berxwedan, and went on hunger strike on 1 March. Speaking about Dozdar, who was arrested for what he posted on social media, his father said: "People with much worse charges have been released, but his surname, Şimşek, condemns it. They won't release him and even if he was ill, he went on hunger strike."
Berxwedan and Dozdar's mother, Zarife Şimşek said: "When my husband was in prison for years, my children grew up without a father like many Kurdish children. There is only one year between the two boys and they are very close, they grew up like friends. They used to go everywhere together, they wear the same thing, eat the same thing. Today, they also joined the hunger strike together. Both boys had to go to work after high school because of our poor financial situation because. Work during the day and party work in the evening.
Berxwedan and Dozdar - said Zarife Şimşek - are the fourth and fifth of my seven kids. As my children grew up, they joined the cause of their father and they could not remain silent about the injustices suffered by the Kurdish people. They were involved in every task with the excitement of their youth. The police would often come to our home. We were actually wondering what had happened if they didn't come for a while! I wonder why they didn't come, I thought that something had happened! We were so used to it. The police harassment was a routine. Their older brothers were arrested, a few years before them. Then I was detained, tortured for 14 days. All of this was instrumental for them to get involved in the struggle."
Zarife Şimşek said that her son Dozdar has some health problems, and the hunger strike was not suitable for him as many friends said to him. Yet Dozdar said 'am I worse than my brother, or Heval Leyla that I can't go on hunger strike' and he joined the resistance.
"As a mother - said Zarife Şimşek - of course even if I am proud of my kids, I worry and I am afraid. I don't want them to die. I call the Kurdish people and everyone else who is afraid of God: Let us raise our voices together and urged the hunger strikers' demands to be met."
Talking about his son Berxwedan, Hasan Şimşek said: "Berxwedan's health is as good as the health of someone fasting for three months could be.
Morale is good. The only issue is the silence of the people. Berxwedan had previously been on hunger strike for 52 days in 2012. Whenever there was a resistance in the prisons, there you would find Berxwedan."
Talking about the demands of the hunger strikers, Hasan Şimşek said: "They all have one demand, and that is the removal of the heavy isolation imposed on the leadership. We know that this isolation is not imposed just on a single person, but on an entire people. Anyone who call himself a human being and has a conscience should stand up and call for the end of isolation. Everybody should play their part. Our children are getting closer to death every second, and we continue in silence.
I'm proud of both my sons. Everyone on the hunger strike is part of our family. We expect everyone to raise their voice, not just for my sons but for all the people on hunger strike. From the authorities we expect a step to meet the hunger strikers' demands."