TCŞ and TekoJIN members in Paris demand freedom for Abdullah Öcalan
TCŞ and TekoJIN members gathered in the Paris suburb of Drancy to demand freedom for Kurdish People's Leader Abdullah Öcalan.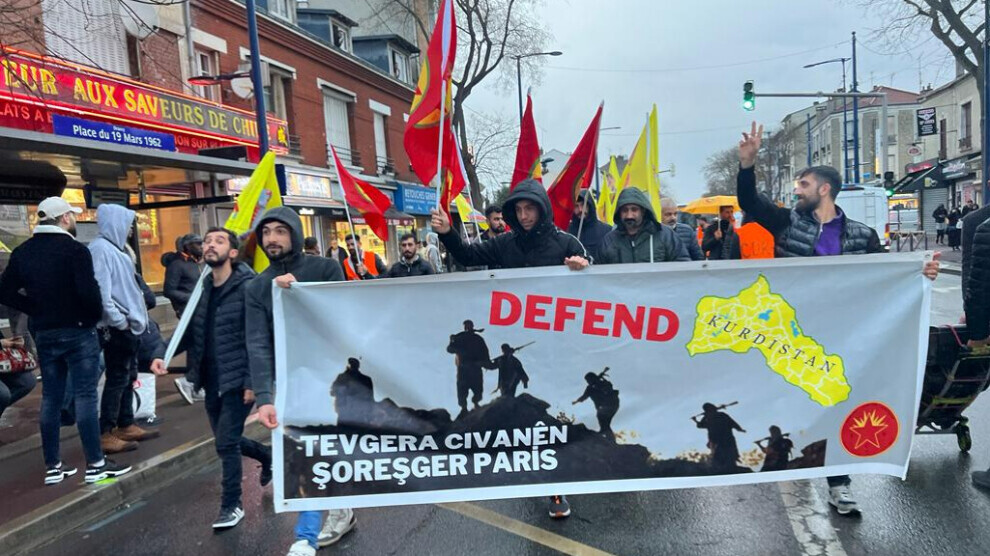 Tevgera Ciwanên Şoreşger (TCŞ) and Jinên Ciwan ên Tekoşer (TekoJIN) members came together in front of the Kurdish Cultural Center in the Drancy suburb of Paris, as part of the "Werin Cenga Azadiyê" campaign demanding freedom for Kurdish People's Leader Abdullah Öcalan.
The young people marched towards the train station of Bobigny with photos of Abdullah Öcalan and PKK banners. Here they held a minute's silence for the Martyrs of the Revolution in Kurdistan.
Later, a statement was read on behalf of TCŞ. The statement said: "While Leader Abdullah Öcalan put up a great resistance on Imrali Island under conditions of aggravated isolation and torture for 24 years as a result of an international conspiracy, the Kurdistan Freedom Movement and the guerrillas do not bow to Turkish fascism and special war policies. International institutions such as the CPT, the Council of Europe and the United Nations do not show any reaction to actions contrary to international law taken against our Leader. We have had no news from him for about two years.
TekoJIN members said: "The physical freedom of our Leader is directly related to the freedom of women and the Kurdish people everywhere. The isolation imposed by the Turkish state on Leader Apo is proof that it fears the ideas that strengthen this revolution."