Temelli: We'll work to dump fascism once and for all
HDP co-chair Sezai Temelli underlined the violence policies of the AKP and said the people will beat fascism on 31 March local elections.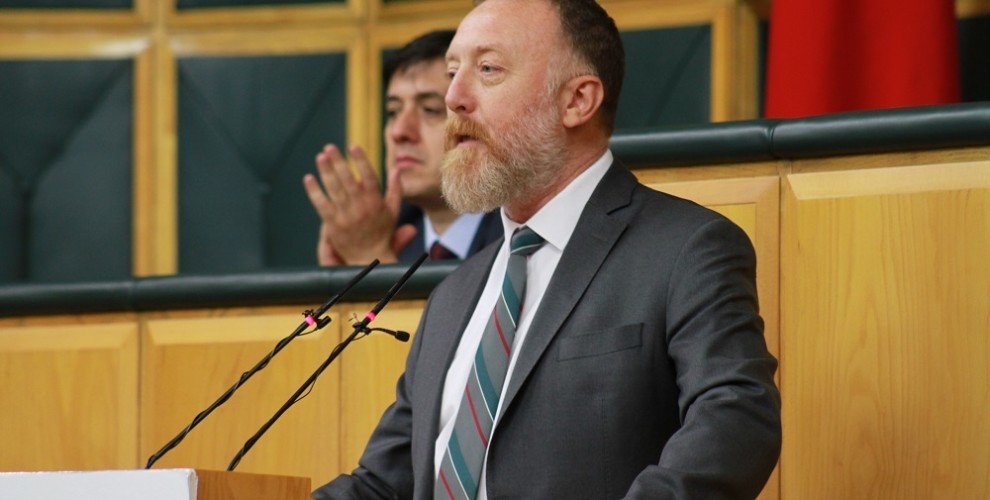 HDP (Peoples'Democratic Party) Co-Chair Sezai Temelli evaluated the current developments at his party's group meeting.
"Last week - said Temelli - we visited Roboski, Sirnak and Batman. It's been 7 years since the massacre in Roboski. The word "massacre" - said Temelli - is forbidden like the name "Roboski" in the Assembly, but the massacre has been there for 7 years, much present than ever. We are waking up every morning with those sons of ours, and every night for the last seven years we have been burying them. Those 34 children await justice, the people of Roboski await justice. We will continue to stand beside them in their quest for justice".
In Batman, said Temelli, "before our previous trip our friends had been detained. Now, after we left, more friends will be arrested. This is the election work the AKP is carrying out".
Genocidal attacks
The reality we are witnessing, said Temelli, "is that of a power that prevents people from doing politics, from exercising their free will. The same thing happened in Batman. Batman Municipality is governed by a State-appointed trustee. He has been sent there, he gives nothing to Batman, he's got a lot from Batman. HDP gets 70 percent of votes in Batman. This attack against the party, which has 70 percent of votes, continues in Batman as in other Kurdish provinces. Şırnak is one of the cities most affected by the same attack. The same happens in Cizre, Silopi".
4 November political coup
Talking about the 4 November 2016 political coup, Temelli said "it was a blow to democratic politics. Our friends, co-chairmen, mayors, deputies are still in prison. We will continue this resistance today as we did yesterday. Demirtaş, Yüksekdağ and Baluken have the same determination. They continue to resist fascism. We will win".
AKP violence policies
Violence does not end, said Temelli and added: "The 4 November political coup covers every aspect of life. Violence against women is a policy of this power. November 4 is another name for violence against women.
It is this policy - said Temelli - that keeps Figen Yüksekdağ and Leyla Güven in prison.
Sîsê Bingöl is over 80, she has serious health problems, and she is in prison.  Only her? No, there are 1124 seriously ill prisoners in Turkish jails. They must be released immediately".
Temelli had more examples to show the AKP violence policies: The attacks on Kobane and Northern Syria which killed little 6 years old Sara Mistefa.
Local elections
Temelli ended his remarks talking about the local elections in Turkey scheduled for 31 March 2019.
"In our campaign - said Temelli - the HDP will be raising the peace, democracy and freedom struggle. We believe that the most powerful answer on 31 March will be the struggle of the people. These people will send the AKP the strongest message, from Agri, Hakkari, Silopi, Cizre and Amed. We will be working non stop - said Temelli - to make sure we dump fascism once and for all".