TEV-ÇAND artists take over Freedom for Öcalan Vigil
TEV-ÇAND artists took over the Freedom for Öcalan Vigil on week 487.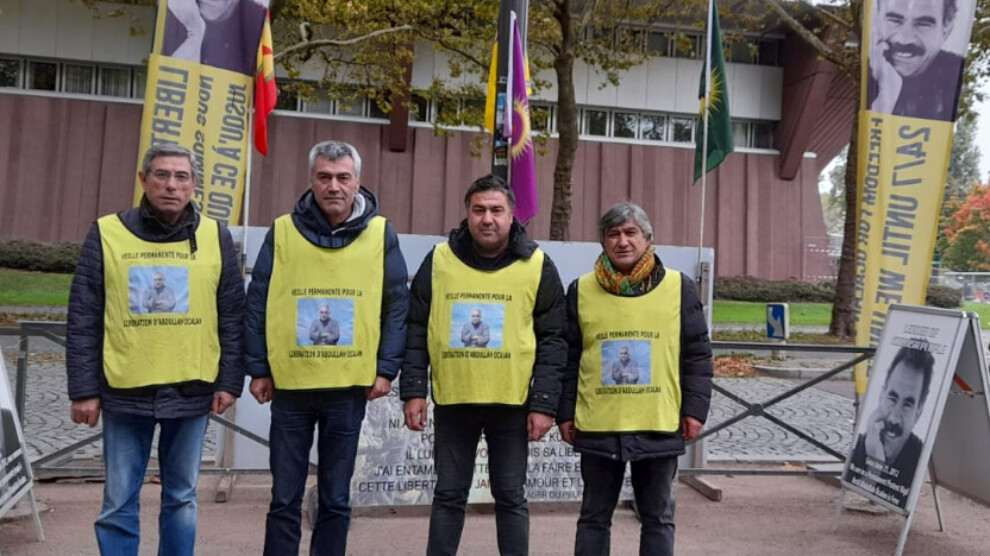 The Freedom for Öcalan Vigil, launched in Strasbourg on 25 June 2012 to demand the end of the isolation imposed on Kurdish people's leader Abdullah Öcalan and to ensure his freedom, has entered its 487th week.
TEV-ÇAND artists took over the vigil. The group includes Hozan Seyîdxan, Şanoger Amele, Tuncer Yalınkılıç and Semyan Adar.
Speaking on behalf of the artist group, Şanoger Amele commended the Kurdish people who come from many parts of Europe to embrace the 10-year-old action.
Stating that Europe, which claims to be based on democracy and human rights, has closed its eyes to the isolation and systematic torture imposed on Kurdish people's leader Öcalan, Şanoger Amele added that European institutions should act urgently.
Pointing out that the Turkish state is a signatory of the European Convention on Human Rights, Amele said that European institutions should impose urgent sanctions on Turkey.
The artist said: "We condemn the isolation against our people in the person of Leader Öcalan," and pointed out that the CPT must urgently go to Imrali and make a statement to the Kurdish people.
Finally, Amele said: "As artists, we call on our people to unite around our Leader. The massacres against the Kurdish people will not end unless the isolation of our Leader is broken and freedom is ensured. Our people should support the resistance wherever they are."