The key to peace is in Imrali, says HDP executive Ümit Dede
Ümit Dede said the CPT report on Imrali confirmed that it is an isolation system which violates both local and international laws.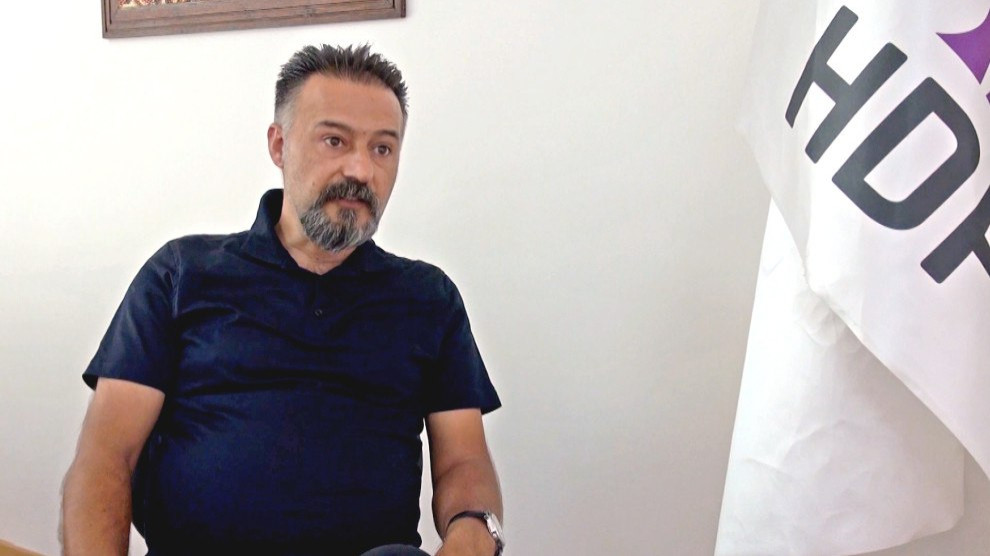 Ümit Dede, HDP Law and Human Rights Commission deputy co-chair spoke to ANF about the isolation imposed on Kurdish people's leader Öcalan, the report of the Committee for the Prevention of Torture (CPT) on Imrali, and the work of his party on the issue.
Dede underlined the importance of the CPT's reports on torture cases in prisons.
Dede reminded that these reports although not legally binding or enforceable have to be taken into account by the member country they refer to. He criticized that the report was published very late.
Isolation is a torture system
Dede said: "The announcement of the report depends on the permission of the member state examined. In the last report announced by the CPT, the most important point is the following: the CPT has accepted and declared that the system implemented in Imrali is an isolation system. We have always stated that the prison practices in Imralı are those of absolute isolation. However, it is important that the CPT clearly included this in its report." Dede also reminded the declaration of the European Court of Human Rights (ECHR) which defined the prison regime in Imrali as a torture system.
Dede underlined that the regime applied in Imralı has been defined as a form of torture at both national and international level and a regime violating national and international law. He added that the isolation regime applied in Imralı Island was not limited to Imralı Island only. "As you know, the system implemented in Imrali under the state of emergency, especially after 15 July 2016, spread to almost all prisons. With the latest amendment to the law of execution, it was granted legal status."
Dede continued: "With the spread of the Imrali system to other prisons, there has been a serious increase in violations. As of today, there are hunger strike against unlawful practices in four separate prisons in Turkey. The Imrali isolation system is not an issue that only concerns Mr. Öcalan and his friends."
Dede said: "The isolation on Öcalan worsened and so did the clashes in Turkey and Middle East. This was a time when the war policies carried out by the government were another burden on the society in all areas such as economy, health and education. On the contrary, we see that all areas were positively affected when the isolation system was softened and Mr. Öcalan's family, lawyers or delegations were able to report to the society what Öcalan was conveying. Since the government interrupted the peace talks the country and the Middle East have gone through a new difficult period marked by war and conflict. Everyone is affected by these war policies. What society needs is to breathe, it needs peace."
Dede said his party is waging a battle for peace and added that peace cannot be possible without breaking the isolation. "As the past practices have shown us, the key to peace is in Imrali. Talking about peace and bringing it to the public's agenda will only be possible if Mr. Öcalan can influence social politics. And this will be possible with the end of isolation. We have always said that Mr. Öcalan is an important figure for the peoples of the Middle East and politics and that he is a hope for all peoples. We will continue to expose the importance of peace and denounced the negative effects of war policies. We will organize a social opposition to break the isolation on Imrali by emphasizing that what our people and the society need is peace."
Dede said: "On September 1, World Peace Day, we will carry out a special initiative to break the isolation of Imralı Island and to make the peace policy prevail in the country. This work will be carried out by a professional team. Various actions and activities to enable intellectual, legal and political discussions will be organised. Our party will focus more on peace in the coming period. Because we are very aware of this: The situation of the country and the problems experienced in every field are definitely related to the war policies carried out by the government. It is necessary to explain this to the society."
Dede ended his remarks by saying: "The 15 July coup attempt was a turning point for Turkey. Several media outlets were closed after July 15. Journalists were fired. There is a free press and they are doing their job despite all the pressure. However, the opportunity to reach large masses is much more limited for us than in the past. Therefore, our party's efforts to expose the government's war policies will have to be on a face-to-face basis. We are developing a form of struggle by which we personally go to the people and having meetings in the neighbourhoods, we carry out one-on-one meeting with the people and get their suggestions. Somehow we have to wage this struggle. The government, which turns every crisis into an opportunity, bans the activities of opposition parties."