Thousands march in Paris for Sakine, Fidan and Leyla
Thousands of people marched from Gare du Nord to Republique Square to protest the massacre of three Kurdish female revolutionaries in Paris in 2013.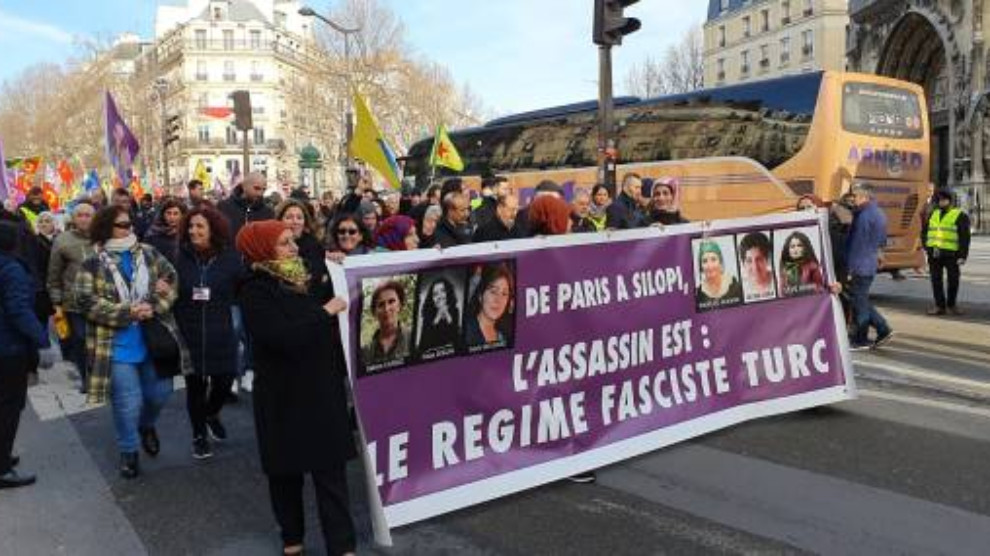 A march was organised in Paris today to mark the 7th anniversary of the murder of Sakine Cansız, one of the founders of the PKK, Fidan Doğan, KNK Paris Representative and Leyla Şaylemez, a member of the Youth Movement.
Promoted by the European Kurdish Women's Movement (TJK-E) the march attracted thousands of Kurds and their friends, who flocked to Paris from many European countries in the morning and marched from the Gare du Nord to Republique Square.
The march was opened by women carried photos of Sakine Cansız, Fidan Doğan and Leyla Şaylemez, as well as Kurdish people's leader Abdullah Öcalan, behing a banner saying "We have enough of 7 years of impunity".
Family members of Cansız, Doğan and Şaylemez were at the march and so were French politicians Jean-Luc Melanchon, Pascal Torre, KONGRA-GEL co-chair Remzi Kartal, KNK Executive Council Member Zübeyir Aydar, KCDK-E co-chairs Yüksel Koç and Fatoş Göksungur, TJK-E representatives and Kurdish representatives, French, Tamil and Turkish institution representatives.
Activists frequently chanted slogans against Turkey and Erdogan and criticised the French government for its policy of silence.
The organizers of the march said participation was bigger than last year.
The march ends with a rally to Republique Square. French politicians as well as representatives of many Kurdish institutions are expected to speak.
Speaking at the Gare Du Nord, the starting point of the march, Pascal Torre, representative of the French Communist Party, stated that the Turkish state has a massacre tradition and added: "The Turkish state has made massacres throughout history. The massacres targeted all minorities in the region, including Armenians and Kurds. This continues today."
Torre also reminded the isolation imposed on Kurdish leader Abdullah Ocalan for over 20 years.